Singapore's Second Cruise Terminal Set to Welcome First Ship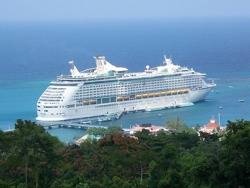 Later this month Singapore's new cruise ship passenger terminal will see its first ship arrive
The 28,000-square-meter terminal, which was built at a cost of 500 million Singapore dollars (400 million U.S. dollars) and operated by the SATS-Creuers Cruise Services, will effectively double Singapore's berth capacity.
The terminal has the capability to dock ships of up to 220,000 gross register tonnage (GRT) and measuring up to 360 meters in length with a hull draft of up to 11.5 meters. It also has a spacious arrival and departure hall comprising 80 check-in counters and up to 40 immigration counters, as well as a large ground transportation area, which allow the handling of up to 6, 800 passengers at any one time.
The 138,000-ton Voyager of the Seas will dock for the first time in Singapore at the new terminal. With a capacity of 3,840 passengers and 1,176 crew, it is the largest ever to homeport in Singapore.
Melvin Vu, chief executive officer of the SATS-Creuers Cruise Services, said the company will be trying to have passengers disembark from their ships and leave the terminal swiftly to continue on with their holiday itinerary, as cruise terminals are built to cater to large numbers of passengers in a short period of time.
"The opening of the Marina Bay Cruise Centre Singapore marks a momentous development for the cruise industry in Singapore and we look forward to receiving guests from all over the world," he said. "Singapore's strategic location coupled with the terminal's state- of-the-art facilities and proximity to the city and Singapore Changi Airport will anchor the country's position as Asia's leading cruise hub."