Slipping Rates Drag Baltic Dry Index to Fresh 2.5-year Low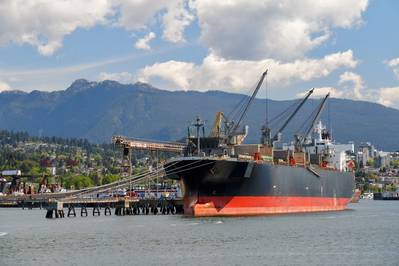 The Baltic Exchange's main sea freight index extended losses to a sixth straight session on Tuesday to touch a fresh 2-1/2-year low, dragged down by a dip in capesize and panamax rates.
The overall index, which factors in rates for capesize, panamax and supramax shipping vessels, fell 19 points, or about 2.6%, to 721, its lowest since early-June 2020.
The capesize index lost 50 points, or 6.8%, to 685, its lowest since mid-September 2022.
Average daily earnings for capesizes, which typically transport 150,000-tonne cargoes such as iron ore and coal, were down $410 at $5,684.
The panamax index was down 13 points, or about 1.2%, at 1,035, also a more than two-year low.
Average daily earnings for panamaxes, which usually carry coal or grain cargoes of about 60,000 tonnes to 70,000 tonnes, fell by $115 to $9,313.
Among smaller vessels, the supramax index snapped its more than a month long losing streak, gaining four points to 649.
(Reuters - Reporting by Harshit Verma; Editing by Vinay Dwivedi)