Kalmar SmartPort Equipment Ordered for New Argentine Terminal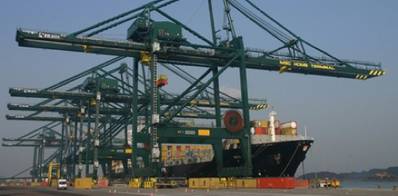 Kalmar, part of Cargotec, has been awarded the contract for the supply of multiple Kalmar SmartPort solution products to TecPlata S.A, a fully-owned ICTSI company.
The greenfield terminal located in Port La Plata, Argentina, will feature in the first phase Kalmar SmartLift and SmartStack on its 18 Kalmar terminal tractors, nine ZPMC RTGs, two Kalmar reachstackers and three Kalmar front-end loaders. The delivery also includes the SmartMap visualisation tool.

In October 2008, ICTSI obtained a 30-year concession for the design, construction and operation of a new container terminal in Port La Plata. The project involves, when fully developed, 820 metres of quay, a container storage area and other facilities allocated in an area of 41 hectares. The first phase of the project will be completed in December 2013. As part of the project, TecPlata will implement integrated SmartPort process automation solutions to support the operations.


TecPlata management say they expect the Kalmar SmartPort solutions SmartLift and SmartStack to realise key benefits to their operations. Whereas SmartStack provides a real-time, accurate inventory of the terminal's containers, SmartLift improves operations between container handling equipment and trucks through job list optimisation and automated job selection. As a result, safety, security and productivity levels are expected to increase, by improving the quality of the information and reducing the number of human errors.

The solutions will provide a real-time inventory of the yard, thus avoiding lost containers, improving the RTG operator's efficiency and reducing truck turn times. Via the SmartMap visualisation tool, visibility of the equipment in the yard is also improved.

Javier Ramirez, Operations Manager of TecPlata commented: "We are implementing SmartPort solutions as part of our development strategy for process automation. We believe that process automation will quickly become an industry standard to stay at the forefront in terms of safety, security and overall terminal efficiency."