Southampton Marine Services Delivers Svitzer Merlin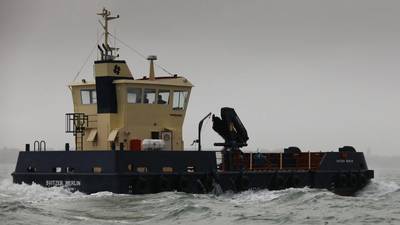 U.K. shipbuilder Southampton Marine Services said it has delivered a newly constructed 20.45-meter multipurpose harbor workboat to Svitzer.
The new vessel, named Svitzer Merlin, is the forerunner in Southampton Marine Services' new Bulldog workboats range. A Bulldog 20, the workboat is a repeat Svitzer order for Southampton Marine Services, being similar to the Middlesbrough-based Svitzer Leven.
Svitzer Merlin takes her place in the Svitzer fleet being based at Milford Haven, performing general port collection work and recycling of waste from ships at the port. "Once in service, Svitzer Merlin will have an important role to play in Svitzer's operation up and down Milford Haven supporting some of the very largest oil and gas ships that visit our waters paying attention to safety and timeliness," said Keith Furlong, Svitzer's Port Manager at Milford Haven.
Designed by Argyll Maritime Design Services, Svitzer Merlin is a twin screw, pontoon style, shallow draft work vessel and with a small superstructure and wheelhouse on the portside aft, her large clear deck space across the bow will accommodate 12 waste 'skips' and several pallets.
The vessel is propelled by twin Doosan KEMD 196TI 320BHP manually operated diesels engines, each driving conventional contra-rotating propellers via KGDMT 170H gearboxes at 3.42:1 reduction. John Deer generators with a capacity 60Kva supply power at 415 volts 3 phase at 50 Hz.
A TMC BS300 M4 knuckle boom crane with a lifting capacity of 2,152 kg at a radius of 12.08 meters is installed. An electrically driven bent axis piston pump with a rated capacity of 67lpm at 280 bar supplies the crane at full load. The hydraulic system has a three way electrically actuated diverter valve to enable switching from crane to windlass or to the hose reel operation.
Separate from the crane/windlass and hose reel hydraulic system there is a standalone load sensing piston pump driven from the main engine and this provides the 5 metric ton tugger winch 67lpm at 210 bar with the engine speed at 1,500 rpm and controlled from the aft deck.
On the hull, fendering consists of a single run of 89mm half section heavy wall pipe, fitted along the length of the vessel port and starboard at deck edge, and is fully welded and sealed. Half section heavy wall pipe chevrons are fitted underside of side deck fender and light waterline port and starboard. The bow is fitted with heavy push knees protected with 'D' section rubber fender and the forward deck is protected with bulwarks around the bow and extending down the forward deck on both port and starboard sides.
Builder: Southampton Marine Services, Ocean Quay, Southampton, U.K.
Design: Argyll Maritime Design Services
Type: Bulldog 20
Length: 20.45 meters
Breadth: 7.5 meters
Propulsion: 2 x Doosan MD196TI diesel main engines, each developing 320 bhp at 235kW at 2,000 rpm.
Speed: 9.5 knots