Sovcomflot Takes Delivery of New LNG Carrier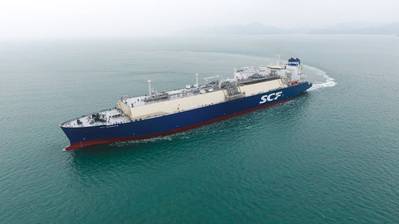 Sovcomflot, a Russian oil and gas shipping company, has taken delivery of SCF Barents, a new 174,000-cbm LNG carrier.
The vessel was delivered Monday and has already started its maiden voyage under a long-term time charter agreement with Shell.
According to Sovcomflot, the LNG carrier was named after Willem Barents, a prominent Dutch navigator and explorer.
The naming ceremony, held on September 10, was attended by Igor Tonkovidov, President and CEO of SCF Group; Cederic Cremers, Country Chair Shell Russia; and representatives of the three banks providing financing for the vessel's construction: ING Bank; KfW IPEX-Bank, and Crédit Agricole.
Catherine Hall, General Manager Global Operations Commercial Services, Shell Trading & Supply Operations, became the vessel's sponsor.
Sovcomflot's CEO Igor Tonkovidov said:"SCF Group and Shell have enjoyed a long-standing partnership, which both parties seek to consistently expand and reinforce. For many years, Shell remains amongst the largest charterers of SCF's vessels. Together with Shell, we share the success of our pioneering 'Green Funnel' initiative launched exactly five years ago – in September 2015 – to introduce cleaner-burning LNG fuel for large-capacity tankers."
SCF Barents is the second vessel in a series of three 174,000-cbm new-generation Atlanticmax LNG carriers ordered by SCF Group in 2018. The first vessel of the series, SCF La Perouse, was delivered in February 2020. Both vessels were built by Hyundai Samho Heavy Industries in South Korea.
With the delivery of SCF Barents, Sovcomflot now has 15 gas carriers in operation, with another 16 under construction.
"Thus, two-thirds of all vessels currently ordered by SCF Group are destined to expand our gas fleet," Tonkovidov said.