Sovcomflot Updates Fleet Strength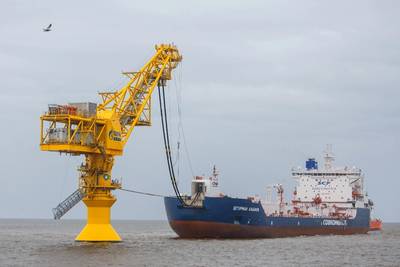 Russian maritime shipping company specializing in petroleum and LNG shipping Sovcomflot (SCF Group) said that Yevgeny Primakov (Icebreaker Ice-15) joined the fleet, the final vessel in a series of four new generation IBSV's, engaged under a long-term time-charter agreement with Sakhalin Energy.

The shipping company added that this makes a total fleet of 10 supply and standby vessels servicing Nogliki Base Camp (SEIC and ENL) at Sakhalin island (Sea of Okhotsk).

The world's first Aframax tanker to use LNG as her primary fuel Gagarin Prospect (114,000 DWT) entered service (July) on long-term time charter to Shell. In last October, Gagarin Prospect completed her first commercial voyage using LNG fuel, from Primorsk to Rotterdam as part of Sovcomflot's commitment to drive down tanker industry emissions.

Recently Sovcomflot ordered a further two new generation 'Green Funnel' Aframax tankers as well as three LNG-fuelled MR product carriers from Zvezda shipyard (Primorsky Krai).

It said that vessels using LNG fuel release 100 per cent less Sulphur Oxide (SOx), 76 per cent less Nitrogen Oxide (NOx), 27 per cent less Carbon Dioxide (CO2) and 100 per cent fewer particulate matters into the atmosphere than those with engines burning standard marine fuels. They exceed rather than merely comply existing and anticipated emissions regulations, including the IMO's new global limit for sulphur in marine fuel oil that applies from 1 January 2020

The Group's LNGC Pskov loaded the first cargo of LNG from Yamal LNG's second train (August) and in November completed the first open water ship-to-ship transfer of cargo for Yamal LNG, it said.

Christophe de Margerie, the Group's pioneering icebreaking LNGC loaded the first cargo (December) from Yamal LNG's third train.

Sovcomflot was successful in international LNG tenders and new long-term contracts with Total and Shell, to add to the Group's LNG portfolio - fully in line with the chosen strategy of growing its fixed rate/fixed term liquefied gas transportation business with core clients

Time-charters for four ice-class shuttle tankers for the Sakhalin 2 and Varandey projects were extended or renewed, thereby adding new fixed-rate follow-on business with core clients and further strengthening Sovcomflot's global leadership in the provision of shuttle tanker services to upstream projects in the Arctic and Sub-Arctic regions.