SPARTACUS: World's Largest Cutter Suction Dredger Launched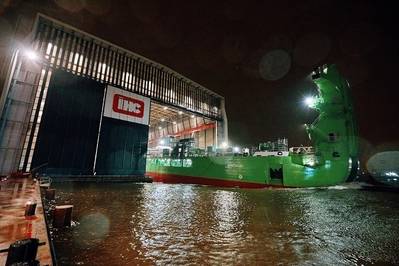 On November 10, Royal IHC successfully launched the Spartacus, a 44,180kW self-propelled cutter suction dredger (CSD) designed and built for DEME.
The ceremony took place at IHC's shipyard in Krimpen aan den IJssel, The Netherlands. It was performed by Mrs Fabienne Ackermans, the spouse of Mr Luc Bertrand (chairman of the Board of Directors of Ackermans & van Haaren, owner of DEME).
Spartacus is reportedly the world's largest CSD and the first to be powered by liquefied natural gas (LNG). The four main engines can run on LNG, marine diesel oil (MDO) and heavy fuel oil (HFO). The two auxiliary engines also incorporate dual-fuel technology.
IHC and DEME acquired extensive knowledge during the build of LNG-powered trailing suction hopper dredgers MINERVA and SCHELDT RIVER.
The first LNG-powered CSD in the world
In addition to the use of LNG as fuel, Spartacus features several additional innovations, such as a waste heat recovery system, a one-man operated dredge control and a heavy-duty cutter ladder that can reach a dredging depth of 45m.
"DEME's drive to innovate and focus on sustainability is reflected in the company's multiyear fleet investment program," says Director and CEO of DEME Alain Bernard. "The new additions to the fleet are part of our continuous efforts to further increase efficiency, both in terms of production and environmental performance. Spartacus stands out because of her unrivaled power and high-tech features on board. The CSD will drive new levels of performance and provide our customers with flexible solutions for dredging projects in even the most harsh and remote environments."
The Spartacus has already received its first nomination for an award with DEME being shortlisted in the 'dredger of the year' category by the Dredging and Port Construction Awards. The winner will be announced on 20 November 2018.