Spectrum of the Seas Delivered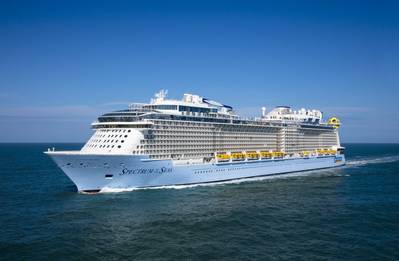 Cruise line Royal Caribbean International officially took delivery of the 26th ship in its fleet, 169,000 grt Spectrum of the Seas, in a ceremony Thursday in Bremerhaven, Germany.
The first ship in the Quantum-Ultra class, the Meyer Werft built Spectrum of the Seas measures 347.1 meters long and 41.4 meters wide. Altogether, the vessel has 18 decks with 2,137 cabins offering space for 4,246 passengers in double occupancy and 1,551 crew members.
The Bahamas flagged Spectrum of the Seas will be the largest and most expensive ship in Asia when she arrives to her new home in Shanghai on June 3, 2019.
Like its sister ships Quantum of the Seas, Anthem of the Seas and Ovation of the Seas, the new-build has the glass capsule North Star, the Flow Rider surf simulator and the Rip Cord skydiving simulator. New features include the Sky Pad, a virtual reality, bungee trampoline experience located on the aft of the ship.
As a further development of Quantum-Class, Spectrum of the Seas like its three sister ships is fitted with state-of-the-art emission control systems such as the so-called hybrid scrubber. Highly energy-efficient technical systems, optimized hydrodynamics, heat recovery and exceedingly effective underwater paintwork together with an energy-saving LED lighting system result in considerable energy savings. The vessel features a diesel/electric pod drive, extensive alarm and safety systems, interactive communication systems and the very latest stage equipment.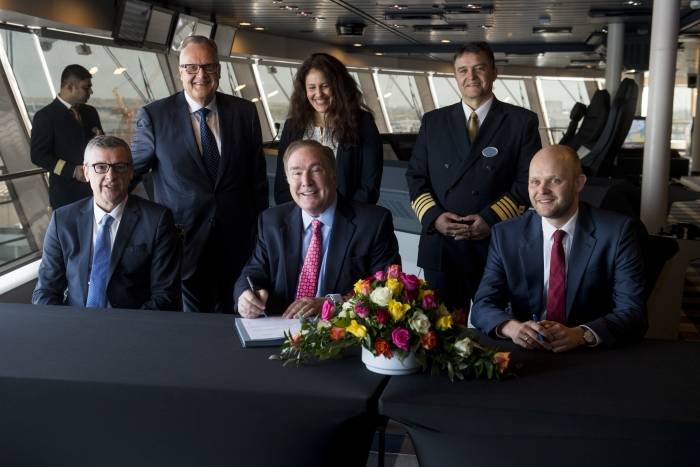 (Photo: Royal Caribbean)
Royal Caribbean Cruises Chairman and CEO Richard D. Fain and President and CEO of Royal Caribbean International Michael Bayley received the new ship from Meyer Wert Yard's Managing Partner Bernard Meyer and Meyer Werft Yard's Managing Director Tim Meyer at the official handover ceremony.
"We are excited to welcome Spectrum of the Seas, our first Quantum Ultra Class ship to the Royal Caribbean family," Bayley said. "We have once again combined revolutionary ship design with the latest technology to deliver a ship that will redefine the China cruise market."
Before Spectrum arrives to her new home this summer, she will sail a 46-night Global Odyssey from Barcelona, Spain to Shanghai, taking guests to an array of ports, including Aqaba, Jordan; Dubai, UAE; Muscat, Oman; Cochin, India and Georgetown, Malaysia. In winter 2019, the ship will reposition to Hong Kong to offer holiday cruises.
Dimension: 169,000 gt
Length overall: 347.1 m
Moulded breadth: 41.4 m
Number of decks: 18
Draught: 8.50 m
Engine output: Wärtsilä 2x12V 2x 16V totally67,200 kW
Propulsion power: 41,000kW
Speed: 22, knots
Number of passengers: 4,284
Number of passenger cabins: 2,137
Number of outside cabins (including suites): 1,759
Number of inside cabins: 378
Crew: approx. 1,550
Number of theatre seats: 1,281
Number of restaurants: 18
Number of bars/lounges: 12
Total weight of applied paint: approx.300 t
Total length of laid cables: 2,900 km
Total length of laid pipes: 400 km
Flag: Bahamas
Classification: DNV GL