Seaway Stakeholders File Suit Against US Coast Guard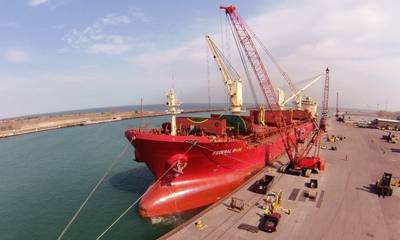 Ports and vessel operators challenge what they call "flawed pilotage fees"
A coalition of U.S. Great Lakes ports, vessel operating companies and maritime trade associations today filed suit in the U.S. District Court for the District of Columbia challenging the U.S. Coast Guard's 2016 increase in Great Lakes pilotage rates, the
American Great Lakes Ports Association
(AGLPA) announced.
The complaint was filed by a coalition including the AGLPA, along with the Shipping Federation of
Canada
and the U.S. Great Lakes Shipping Association, as well as vessel operating companies Fednav International Ltd, Canfornav Inc., Polish Steamship Company, Spliethoff Transport, Brochart Shipping and Wagenborg Shipping.
The coalition disputes the agency's proposed 58 percent increase in pilotage fees to be implemented over 2016 and 2017, arguing flaws in the agency's work.
"Great Lakes pilotage costs have gone up 114 percent over the last 10 years. The Coast Guard wants to increase them another 58 percent by 2017. These increases are unsustainable and will ultimately erode the viability of international trade through Great Lakes ports," said Will Friedman, President of the
Cleveland-Cuyahoga County Port Authority
.
Steve Fisher, Executive Director of the American Great Lakes Ports Association, said, "Pilotage is currently one of the single largest costs to vessel operators engaged in international trade on the Great Lakes. On average, the daily cost of a pilot now exceeds the cost of chartering the entire cargo ship and its crew."
Under federal law, all oceangoing vessels operating on the Great Lakes Seaway System are required to hire local pilots to assist with navigation. The U.S. Coast Guard regulates all aspects of Great Lakes pilotage and has granted three private companies a monopoly to provide these services. Rates are set annually by the Coast Guard through a federal rulemaking.
In its 2016 rate-setting, the Coast Guard decided to expand the number of pilots, increase pilot compensation to $326,000/year, and ensure that pilots have 10 days off each month during the nine-month shipping season.
In response to runaway pilotage costs, Rich Cooper, CEO of Ports of Indiana, said, "Shippers already face tremendous handicaps and higher costs when operating in the Great Lakes. Adding this excessive fee will discourage companies from doing business in the Great Lakes region and could shut down a vital transportation system."
John Loftus, Executive Director of the Port of Detroit, said, "The Coast Guard maintains a Great Lakes pilotage system largely unchanged since the 1960s. It is time that the agency modernize its approach, identify cost efficiencies and protect the thousands of jobs dependent on the Great Lakes navigation system."
In its complaint, the coalition argued that the Coast Guard violated the Administrative Procedures Act by making arbitrary and unsubstantiated decisions during development of the 2016 pilotage rates. The plaintiffs have asked the court to remand the rulemaking back to the Coast Guard for revision.