New Wavecall Standardized Vsat Portfolio From Marlink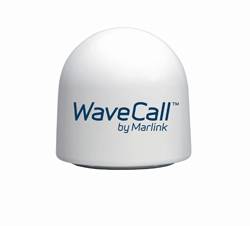 Marlink is presenting its re-developed WaveCall standardized VSAT offering to the worldwide shipping community for the first time during Posidonia 2012.
WaveCall services ensure that maritime transport companies can choose affordable connectivity according to different requirements and budgets, backed-up by Marlink's multi-tier customer and technical support provided by experienced engineers specializing in standardized and customized maritime VSAT.

"WaveCall services are already being used aboard hundreds of maritime transport vessels globally and to ensure that we continue to meet the changing requirements of our shipping industry customers we have now lowered the cost of entry even further and introduced new capabilities in order to provide even greater choice," comments Tore Morten Olsen, CEO, Marlink.

The new, expanded WaveCall portfolio consists of two service propositions. WaveCall offers standard connectivity up to 1.5 Mbps and starts at just $1000 per month. WaveCall™ Premium, which, in addition to offering up to 3 Mbps broadband connectivity, also offers flexible CIR to enable multiple voice lines and the capability for business critical applications such as VPN, remote monitoring and telemetry services.
"Regardless of the service chosen, our 25 years' experience in maritime satcoms and ability to provide first-line support with our own engineers and technicians, ensures customers can be confident in the availability of their communication services," continues Olsen. "Longevity and stability are also vital to our customers and the fact that we own teleports and are a specialist division within the major satellite company, Astrium Services, means that we are able to provide this key support."

"WaveCall gives us highly competitive maritime connectivity with fixed, low monthly expenditure based on the bandwidth and performance required across our fleet," says Gunnar E. Eide, Surveyor Maritime ICT & Automation at Odfjell Ship Management AS; a leading logistics service provider that contracted Marlink to supply WaveCall™ to 40 vessels in March 2012.

"Our WaveCall services from Marlink enable us to benefit from an easier to use, smarter and more flexible VSAT network. We have worked closely with Marlink to ensure we have the right configuration for our fleet and the deployment process has been straightforward. We are able to interact directly with Marlink for service and support and they ensure the service runs to our satisfaction," adds Eide.

WaveCall is a low-cost of entry service for owners and operators wishing to provide standard office type facilities on board, such as email and web browsing for crew in addition to operational communication. WaveCall Premium offers the same, with higher bandwidth and competitive pricing, but also user-definable CIR and supports vessel and fleet efficiency by enabling the use of custom applications, such as those designed for reducing fuel consumption and emissions, or improving service and maintenance processes.

WaveCall and WaveCall Premium are based on the latest iDirect technology and offer a choice of compact, lightweight Ku-band antennas from leading manufacturers. Both services offer access to a number of Value Added Services including Marlink Prepaid Cards for crew, the ability to integrate all communications using Terralink, @SEAwebControl to manage how connectivity services are used, low-cost calling with local numbers, and the ability to establish secure VPN connections.

Marlink's experts are available to discuss requirements of ship owners and operators for standardized and customized connectivity at stand 4.130 throughout Posidonia 2012.