Steel Cut for Rizhao Port's Two New Tugs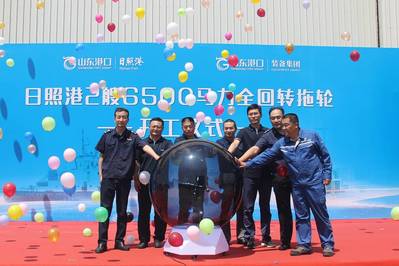 A steel cutting ceremony was held earlier this month for a pair of new tugs being built for Rizhao Port, Shandong Province, China.
The two Robert Allan Ltd. designed RAmparts 3700 ASD tugs are being built at the facilities of Rizhao Gangda Shipbuilding Heavy Industry Co. Ltd.
On completion, the new 39.7-meter-long tugs will perform ship-handling and coastal towing for the port, which has seen cargo handling capacity rapidly increase alongside the size of vessels calling the port. Therefore, the new tugs under construction are engineered to be more powerful that the Rigang Tuo 1, a Robert Allan Ltd. designed tug delivered to the port in 2021.
It's estimated the tugs will be able to achieve free running speeds of 13 knots and 80 tonnes bollard pull (astern).
According to the designer, the new tugs also feature an improved accommodation layout with bulwark and fendering arranged for safe boarding of pilots, as well as an improved machinery arrangement.