Cargo Ship Stranded on Welsh Coast to be Broken Up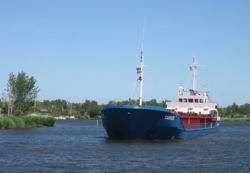 Cargo ship 'MV Carrier' stranded on North Wales coast declared a 'constructive total loss', to be scrapped
The MV Carrier will be cut into manageable sections on the shore at Llanddulas, near Colwyn Bay, and sent to a scrap yard by road, according to a BBC news report.
The owners confirmed contractors will start the demolition once they remove the ship's 24,000 litres of fuel. The work is expected to take six weeks.
Seven Polish crew had to rescued when the vessel ran aground last Tuesday.
Two lifeboats and Royal Navy and RAF helicopters were involved in the rescue during the night-time rescue in heavy seas.
More than 14,000 litres of fuel has, so far, been removed during low tides from the ship by workers from PGC Demolition of Heywood, Lancashire.
German shipping firm Reederei Erwin Strahlmann, which owns and manages the vessel, said a structural assessment revealed severe damage so the vessel has been declared a constructive total loss.