Update on Stranded Ship off Puerto Rico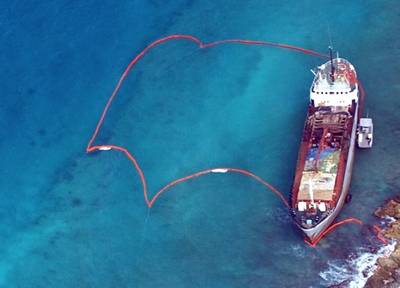 Original 1963 plans found on board cargo ship 'Jireh' help Coast Guard, Federal & local safety agencies prevent pollution
Diesel fuel removal operations continue onboard the cargo freighter Jireh that grounded on the Southwest coast of Mona, Island in Puerto Rico, on June 21.
During staging operations, response crews located the original builder's plans, in German and dating back to 1963, with diagrams of the interior layout of the cargo ship to help identify the ship's actual dimensions and additional fuel tanks that had previously been unaccounted for.
It was also discovered that the length of the vessel, reportedly 185-feet in length, is in fact 202-feet in length.
The vessel is completely boomed off with 800-feet of containment boom. For additional protection, 500-feet of boom was deployed to provide a secondary containment area during all diesel fuel transfer operations between the cargo freighter and the two 35-foot recovery boats.
Proposed vessel removal plans are being assessed by the Unified Command, which consists of the U.S. Coast Guard, the Department of Natural and Environmental Resources, Puerto Rico Environmental Quality Board, and various other federal, state and local agencies.