Royston Strengthens Automation engineering Focus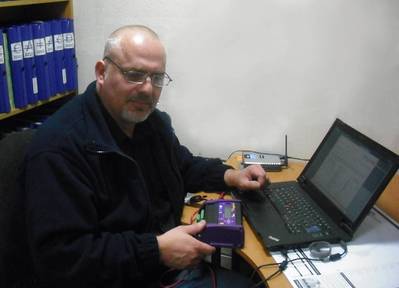 Diesel engine specialist Royston Limited has now extended its capabilities to include automation and control systems.
The new area of activity follows a strengthening of its engineering support team with the recent appointment of Steve Roberts as a process control engineer. He is the first specialist with specific electronics training to be recruited by the company and he now enables Royston to support every aspect of its clients' diesel engines with in-house expertise. Royston Limited is a leading specialist in diesel engine technology and provides maintenance, repair and restoration services to clients in the marine and offshore industries throughout the world. In addition to its regular diesel engine support services, the company also manufactures the enginei monitoring system. This enables operators to remotely observe the fuel consumption of every vessel in their fleet and to ensure that they are being operated in the most fuel-efficient and economical way.
The appointment of Steve Roberts is enabling Royston to develop this side of its business more rapidly and the company is now actively following-up enquiries from ship operators attracted by the substantial fuel savings available to enginei users. The expansion of the company's automation and control expertise is leading to shorter lead times following customer enquiries and the more rapid installation of the cost saving enginei systems. Steve Roberts has joined the company with 24 years of marine industry instrumentation experience to his name. This includes working with the Royal Fleet Auxiliary and encompasses working on pneumatic systems and the latest Programmable Logic Control equipment. He began his career as an apprentice at a Mobil oil refinery since when he has carried out a wide range of work related to control systems including those for thrusters, DNV specifications, failure-mode design and the effective analysis of new and existing automation systems.
Royston Ltd is headquartered in Newcastle-upon-Tyne, UK and also has facilities in Perth, Australia that gives its service support teams a global reach. As a result engineers from Perth or Newcastle-upon-Tyne, UK, can support any type or age of diesel engine anywhere in the world. The fleet maintenance service is provided for all types of seagoing vessel and for diesel engines on offshore platforms or ashore. The company's technicians come from a variety of OEM backgrounds and maintain their skills at the highest levels to ensure that even discontinued products remain fully operational. For more information visit; www.royston.co.uk