China Far Ahead of India in Submarine Race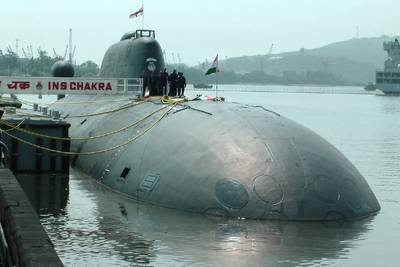 Global military reported that recently a Chinese "Yuan" class conventional submarines docked news in Pakistan, once again hurt the Indian Navy submarine fleet.
The Hindustan Times said terms of size, the
Chinese Navy submarine
force is four times that of India, and in recent years the Chinese submarine upgrading, performance is more old-fashioned non-Indian Navy submarine cannot match.
India now plans to lease a second nuclear attack submarine from Russia and the government has just approved a Rs 90,000-crore ($14 billion) plan to build six nuclear attack submarines in Vishakapatnam says a report in Times of India.
But as Vice Admiral P Murugesan, the vice chief of naval staff, told The Economic Times last week: "We have started work, but we are still at the pen-to-paper stage."
India is rushing to counter China by building conventional and nuclear submarines with German, French and Russian help. But China's lead is large and growing and it plans to export its undersea expertise.
At present the Indian Navy has 14 submarines, including a loan from the Russian attack submarines. In contrast, the Chinese navy has 68 submarines, four times the size of India. Chinese submarine in sequence, and at least nine nuclear submarines, including five attack submarines and four strategic nuclear submarines.
Most of India is close to 13 conventional submarines in service life, four German-made Type 209 submarine basically lost combat capability; 9 Russian "Kilo" class submarines problems continue.
The Indian Navy has 141 vessels, including 127 surface ships and 14 submarines. The Chinese navy has more than 300 surface combatants, submarines, amphibious ships and missile-armed patrol craft.
Meanwhile, responding to Indian concerns about the deployment of a Yuan-class submarine which sailed through the
Arabian Sea
to Karachi in May, the top PLA think-tank in Beijing justified the deployments arguing that much of China's energy interests were in the Indian Ocean.