Submarine Sinks Ship During RIMPAC Exercises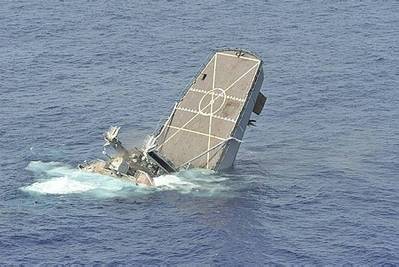 Royal Australian Navy's (RAN) submarine 'HMAS Farncomb' sinks target ship, the 12,106-tonne former 'USNS Kilauea' off Hawaii.
Farncomb, a Collins Class submarine, fired one Mark 48 Torpedo and achieved a hit just below the bridge of the ship as part of a sinking exercise, or "SINKEX," at Exercise Rim of the Pacific (RIMPAC) 2012.

The former USNS Kilauea broke into two parts and sank about 40 minutes later.
The submarine's Commanding Officer, Commander Glen Miles, said the firing is a significant milestone for both himself and his 60-strong crew. "This is the result of professionalism and teamwork," Commander Miles said.
Australia is among 22 nations attending Exercise RIMPAC that includes six submarines and 40 surface ships participating in a realistic maritime warfare scenario.
The world's largest international maritime exercise, RIMPAC, provides a unique training opportunity helping participants foster and sustain the cooperative relationships that are critical to ensuring the safety of sea lanes and security on the world's oceans.