Nuclear Submarine Keel-laid at NNS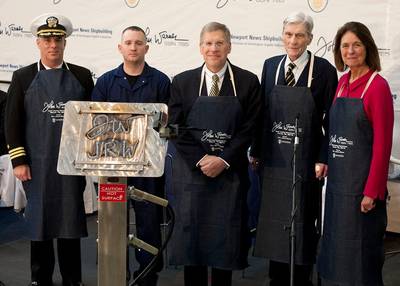 HII's Newport News Shipbuilding (NNS) division celebrates the keel-laying of US Navy Virginia-class submarine 'John Warner'.

The keel has been laid for John Warner (SSN 785), the only Virginia-class submarine to bear the name of a person, and that person was present at the ceremony.
"Each submarine we build becomes a piece of our company's history; each submarine becomes a part of our Navy's history, and each submarine becomes a piece of our nation's history," said NNS President Matt Mulherin. "This submarine will hold special significance in our history, for this submarine is the first and only Virginia-class submarine to be named for a person, and I couldn't think of anyone more deserving of such an honor."

Jeanne Warner, the wife of the former senator and the ship's sponsor, had her initials welded onto a metal plate during the ceremony, in keeping with U.S. Navy tradition. In another first, the ship's namesake also had his initials welded onto the plate. The welding was done by NNS shipbuilder Matthew Shilling, and the plate will be permanently affixed to the submarine prior to its delivery to the Navy.

John Warner is the 12th Virginia-class fast attack submarine. Construction began in April 2009 and is about 59 percent complete. The ship is slated for delivery to the Navy in 2015. The Virginia-class construction program has been lauded by the Navy as a model of efficiency and quality, consistently delivering the ships ahead of schedule.

"This ship and its design and its sister ships are one of the most invulnerable platforms in the entire arsenal of our military," Sen. Warner said. "It has in it every single bit of high technology that can be brought to bear by the magnificent manufacturing base, educational base, laboratory base in this country. Nothing has been spared so that the crew of this ship for years and years and decades to come can help preserve our nation's most valued treasure, and that is freedom."

Picture caption: The initials of the ship's sponsor, Jeanne Warner, and the ship's namesake, John Warner, were welded onto a metal plate that will be placed on the submarine. Pictured (from left) are Cmdr. Dan Caldwell, prospective commanding officer; NNS shipbuilder Matthew Shilling; NNS President Matt Mulherin; and Sen. John and Jeanne Warner.