Saab to Overhaul Swedish Navy Submarine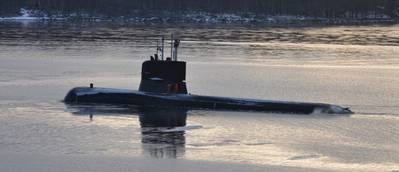 Saab has received an order from the Swedish Defense Materiel Administration (FMV) to overhaul the
Swedish Navy submarine
HMS Södermanland. The order, valued at SEK121 million, is part of the letter of intent announced on June 9, 2014 regarding Swedish armed forces' underwater capabilities.
According to a statement from Saab, the overhaul includes the necessary measures to ensure the submarine's operational availability. One provision of the contract is to define future needs for maintenance, which could result in additional work being contracted separately during the period. This type of overhaul is conducted regularly, according to HMS Södermanland's standard maintenance plan
Gunilla Fransson, Head of Business Area Security and Defense Solutions, said, "The order is further proof that Saab's capabilities in maintenance of submarines and surface vessels are relied upon. This work is an important element of Saab's operations and we are now working on several such maintenance projects."
Work related to the order will be conducted during 2014-2016 at the Saab sites in Karlskrona and Malmö. Redelivery of HMS Södermanland is planned in mid-2016.