Israeli Submarine Named in German Shipyard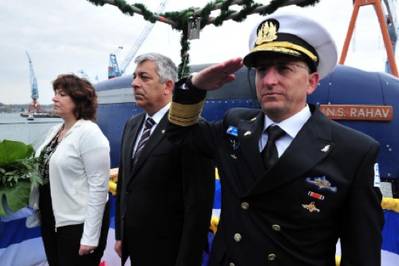 'INS Rahav', the Israeli Navy's 5th Dolphin-class submarine, inaugurated at Thyssen-Krupp Marine Systems in Kiel, Germany.
The new submarine was unveiled at a special ceremony attended by Commander in Chief of the Israeli Navy Rear Adm. Ram Rothberg, Director-General of the Ministry of Defense Maj. Gen. (Res.) Ehud Shani and a delegation of Israeli and German officials.
The INS Rahav was purchased after an extensive development and acquisition process led by the Ministry of Defense's Procurement and Production Directorate in cooperation with the Israeli Navy.

The INS Rahav is scheduled to arrive in Israel in the coming year, upon completion of the installation of all of its operational systems. This class of vessel is considered to be one of the most advanced submarines in the world, and is the most expensive piece of machinery that the Ministry of Defense has procured for the IDF.

The Dolphin-class is a versatile vessel, possessing a wide range of capabilities fit for a large variety of missions. The submarine fleet represents the technological cutting-edge of the Israeli Navy, the IDF and the State of Israel. Sailors in the Israeli Navy's submarine fleet engage in operational activity day after day under a heavy veil of secrecy.