Fugawi Swedish Marine Charts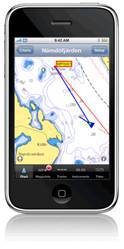 Software manufacturer Northport Systems Inc. announced the addition of Swedish Marine Charts to its online Fugawi Touratel Map collection for use with Fugawi navigation software and the Apple iPhone. The X-Traverse chart and map data distribution system is also now available for integration by third-party developers who wish to easily add marine charts and land maps to their mobile applications.
Compatible with Fugawi Marine ENC and Fugawi Global Navigator navigation software for PC, and the popular iNavX navigation software for Apple iPhone, the Swedish Marine Charts are downloaded directly from the internet, with no CD to purchase or shipping to pay. The Swedish Marine Charts are raster images of the official charts produced by the Swedish Maritime Administration. Designed for use while boating without an internet connection, all charts are stored locally on either the PC or the iPhone for the duration of the subscription. The innovative X-Traverse Data plan also allows users to plot waypoints in Fugawi and transfer them to iNavX software on iPhone, or vice versa, as well as transfer saved tracks.
Powered by Fugawi X-Traverse, an innovative web-based mobile map and data service, third-party device manufacturers and software developers now have easy access to marine and land map content for their navigation applications.
Fugawi Touratel subscriptions are sold in single user licenses and include two activations for use with two Fugawi software installations, or two iNavX apps, or one Fugawi plus one iNavX installation. Marine charts are updated annually with the latest notice to mariner changes.
The X-Traverse integration API is free to qualified application developers. A regularly updated list of compatible applications and supported handsets can be accessed on the X-Traverse website.