Talks Underway on Black Sea Grain Deal Extension in Geneva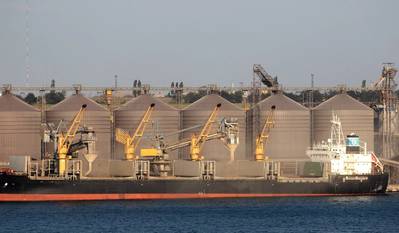 Negotiations began on Monday between U.N. officials and Russian Deputy Foreign Minister Sergei Vershinin on a possible extension to a deal allowing the safe export of grain from Ukraine's Black Sea ports, the Russian diplomatic mission in Geneva said.
The Black Sea grain initiative, brokered between Russia and Ukraine by the United Nations and Turkey last July, aimed to prevent a global food crisis by allowing Ukrainian grain blockaded by Russia's invasion to be safely exported from three Ukrainian ports.
The deal, which was extended for 120 days in November, is up for renewal on March 18.
Moscow has already signalled it will only agree to an extension if restrictions affecting its own exports are lifted, but many diplomats and senior officials, including Turkish Defence Minister Hulusi Akar, are optimistic that the deal will be renewed.
Russian officials say that although the country's agricultural exports have not been explicitly targeted by the West, sanctions on its payments, logistics and insurance industries have created a barrier for it being able to export its own grains and fertilizers.
United Nations trade official Rebeca Grynspan and aid chief Martin Griffiths arrived at the U.N. European headquarters in Geneva on Monday morning, without making a comment.
Two sources involved with the talks said they were initially scheduled to last just one day but could be extended as needed.
News of the talks led to a fall in wheat and corn prices. Ukraine is a major exporter of both grains.
"Wheat and corn markets are weaker today as the talks start about extending the safe shipping agreement for Ukraine's exports," said Matt Ammermann, StoneX commodity risk manager.
"As such a large wheat and corn exporter, Ukraine's supplies are vital to world markets."
Wheat prices on the Chicago Board of Trade were down 0.9% at $6.73-3/4 a bushel at 1152 GMT while corn futures had fallen 1% to $6.11-1/4 a bushel.
"I think there are expectations in grain markets that the agreement will be extended with the deadline now only a few days away," Ammermann said.
"Russia and Ukraine will probably not get all that they want, but I think importing countries will have been lobbying behind the scenes to get the shipping agreement extended."
China is the largest recipient of grain shipped through the corridor.
(Reuters - Reporting by Gabrielle Tétrault-Farber, Emma Farge and Michael Hogan; Editing by Miranda Murray and Christina Fincher)