Great Ships of 2016: Ternsund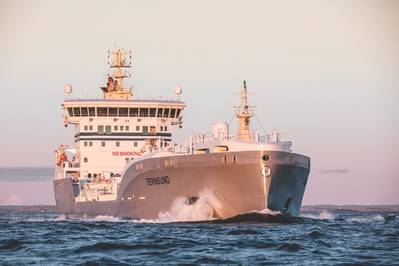 Since it started publishing in 1939, Maritime Reporter & Engineering News has recognized excellence in ship construction. This year 18 ships in total were honored, including many "world firsts."
Ternsund - LNG fueled tanker with Direct Drive Permanent Magnet Shaft Generator
Builder: AVIC Dingheng Shipyard
Owner: Terntank Rederi AS
The Switch has been engaged in the maritime industry for only three and a half years, but it already has approximately 20 ships in its reference list, including the first, the 15,000 dwt M/T Ternsund (featured on this month's cover) owned by Terntank, which is a fourth generation company that in 1958 was a one ship company, and today is an operator of ten modern chemical/product tankers in the range from 8,000 to 15,000 dwt.
MT Ternsund was built by Avic Dingheng
Shipbuilding Co.
of China, and is a Rolls-Royce Marine AS, type NVC 615 CT design ship measuring 147 x 22 x 11.7 m.
The ship is ultra modern in its choice of propulsion, power by a Wärtsilä 5RT-flex 50 DF 5.850 kW 102 RPM 2-stroke, low pressure, LNG dual-fuel main engine, with a Kongsberg fuel performance system. From The Switch it features a Permanent Magnet Shaft Generator with Variable Frequency Drive to allow running the engine/propeller in combinator mode for optimum efficiency. In total, at 12 knots, it consumes 8.9 tons of LNG per day.
WE
Tech Solutions
(WE Tech) announced the operational success at sea of its first Direct Drive Permanent Magnet (PM) Shaft Generator solution. Ternsund is the first in a line of four Terntank Rederi AS chemical/product tankers destined for the Baltic Sea.
"WE Tech's shaft generator solution is working well on both Ternsund and Ternfjord. Terntank has set huge expectations on this technology and believes that this will be the future for the shipping industry," said Tryggve Möller, Chairman of the Board of Terntank Rederi AS and Managing Director of Tärntank Ship Management AB. "We are very happy that Ternsund and sisters now are in service and that all our expectations on emission, performance,and fuel savings has been reached," said Möller. "Even if Ternsund only has been in service a few months, we have found it to be a "happy vessel" for owners, customers and crew."
WE Drive allows the shaft generator to operate over the full main engine speed range, while generating electricity for the vessel's electrical network with high efficiency.
With the WE Drive and the Direct Drive PM Shaft Generator in Power Take Out (PTO) mode, the available power for the vessel's electrical network is up to 780 kW, generated by a fuel efficient two-stroke, low pressure, dual-fuel main engine. In this mode, the auxiliary generators are not running. In Power Take In (PTI) mode, the WE Drive converts auxiliary generator power to propulsion power by employing the Direct Drive PM Shaft Generator as a motor, with a maximum rated output of 1,000 kW.
Builder: Avic Dingheng Shipbuilding Co. LTD
Owner: Terntank
Imo No: 9722390
Flag: DIS
Call Sign: OWPV2
Length, o.a.: 147m
Length, b.p.: 143.5m
Breath (molded): 22m
Depth (molded): 11.7m
Draft, scantling: 9m
DWT (at scantling draft): 15,000
GT: 11,374
Net tonnage: 4,780 t
Hull no.: AD0024
Design: Rolls-Royce Marine AS, type NVC 615 CT
Consumption: 12 knots, 8.9 tonst LNG/Day
Marine gas oil: 610 cu. m.
Cargo tank capacity 98%: 16.559 cu. m.
Ballast water tanks: 6.636 cu. m.
LNG fuel storage tanks: 630 cu. m.
Slop tanks: 242 cu. m.
Tech fresh water tanks: 325 cu. m.
Urea: 52 cu. m.
Tank coating: MarineLine784
Cargo Pumps: Deepwell pumps type DW 200/250 multisuction. Frequency controlled 450 m3/h at 120 m.l.c.
Cargo Alarm & monitoring: Kongsberg Tank Radar K-Chief 600
BWT: Panasia GloEn-Patrol
Bowthruster: (1) 865 kW 60Hz.
Main Engine: Wärtsilä 5RT-flex 50 DF 5,850 kW 102 RPM 2-stroke, low pressure, LNG dual-fuel engine.
Fuel management: Kongsberg
Auxiliary Diesel: 3 x Mitsubishi MAS 850-S, 790 kWe @ 1,800rpm
Shaft Generator: The Switch Permanent Magnet Shaft Generator with Variable Frequency Drive to allow running the Engine/Propeller in Combinator mode for optimum efficiency. Rated output shaft generator PTO 780 kW / PTI 1,000 kW