Ten Things to Do in New York This Spring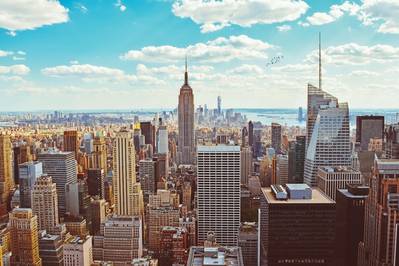 Are you a townie or traveler who needs to shake off the sad vibes of wintertime and blossom into spring? Trends come and go in the blink of an eye. Between trend and tradition, don't fear missing out on it all this season.
New York is filled with so many sensations and sites. It's hard to choose between all the offers, so here are 10 things to do in New York this spring sure to shake up your soul in the best of ways:
1. The Orchid Show
Whatever you do, do not confuse Macy's Flower Show with NYC's The Orchid Show held at The New York Botanical Garden, or you'll give yourself away as a tourist.


2. The Sakura Matsuri Cherry Blossom Festival
The Sakura Matsuri Cherry Blossom Festival celebrates Japanese culture annually. Folks from in and out of town enjoy various family-friendly activities while
surrounded by hundreds of blossoming pink petals
on the trees in the Brooklyn Botanic Garden. Townies will enjoy this brief trip from the center of the city into the embrace of nature.

3. Frieze New York
For four days every May, Randalls Island shakes up the art world as the epicenter of visual creativity. The Frieze New York art fair stations itself under a huge tent, and
more than 1,000 artists and 200 galleries bring works
of all sizes and mediums to show. Art admirers, collectors and dealers flock to the fair from all over the world to enjoy the unique experience and take home astounding artworks.
4. The Bloody Mary Festival
Brunch-time will never be the same when you visit the Bloody Mary Festival, appropriately hosted by the Bloody Mary Liberation Party. In a single afternoon,
spend over 2.5 hours in different NY watering holes
tasting various Bloody Mary incarnations and shaking your groove thing to the beats of a live DJ. What's more New York than this?
5. Five Boro Craft Beer Fest
At The Well over in Brooklyn, the Five Boro Craft Beer Fest offers an
all-your-gut-can-hold tasting of 100 small-batch beers
from 50 breweries from in-state and out-of-state, complete with a live band performance. The small-batch beers are all exclusive to the event. The pours are two ounces each but truly unlimited.
How much can you hold? Pick your favorite as a potential contest winner and take home a commemorative glass.
6. Discover New York's Wine Roots
Wine is a great American tradition with ye olde roots in New York as early as the 1600s, with
the first licensed winery founded in Hammondsport
. You could go as far as to say American winemaking had its roots in the area. Various areas of New York have their own long and proud winemaking traditions, including Long Island, the Finger Lakes,
Lake Erie
, Hudson Valley and the Niagara Escarpment.
While the muscadine vine may divinely grow in the south, New York's got the real wino roots — and
California should
stick with raisins. So, get your New York wine tour on this spring.
7. Brisket King NYC
Sitting on the Iron Throne is nothing compared to be the Brisket King of NYC. Is it western? Is it southern?
No,
it's a battle of the bestern between NYC BBQ dynasties
such as past pit masters Dinosaur Bar-B-Que, Marlow & Daughters and Kimchi Smoke. Combine the various
American styles
of BBQ with the rich ethnic and cultural traditions of New York and crowning the Brisket King NYC is like no other food festival in America. Who will you choose to reign as Brisket King?
8. NYC Vegetarian Food Festival
Want to partake in a meatless paradise? Reside for a few hours in a green-eating fantasy? Attend the seventh annual NYC Vegetarian Food Festival complete with
endless creative vegetarian samples and small plates
from various vegetarian restaurants and companies. Enjoy cooking demonstrations and learn more about doing your part at eco-information and animal rescue tables.
9. Ninth Avenue International Food Festival
The Ninth Avenue International Food Festival is the largest and oldest food fair in NYC, taking place rain or shine each May with 15 blocks worth of food including southern style, baked goods, BBQ and ethnic cuisines. The food fest raises money for a variety of national and local causes.

10. The Tribeca Film Festival
Attend director talks and memorable galas at the Tribeca Film Festival
, where you can take in Robert De Niro's premieres along with informative documentaries and buzzworthy indie films. Some ticket prices go for several hundred dollars and up for an all-access pass. Many talks and film specials are very budget-friendly, such as a $10 matinee, so you can feel like a cinophile without going broke.
New York is the one place you can see, taste and dance world cultures in a single spot. Enjoy the new blooms in botanical festivals, eat and drink your fill at foodie festivals and surround yourself with rich cultural entertainment and knowledge this spring.