Thuraya, ITC Global Partner for VSAT+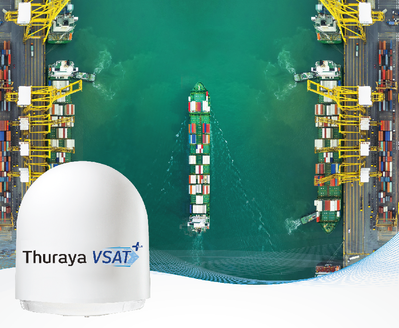 Thuraya Telecommunications company, a subsidiary of the Al Yah Satellite Communications company (Yahsat), has partnered with ITC Global to set up Thuraya VSAT+, the ground-breaking maritime satellite service.
ITC Global is a subsidiary of Panasonic Avionics Corporation. The partnership gives Thuraya access to Panasonic's global mobility network, which enables the Ku-band element of the Thuraya VSAT+ service.
Thuraya launched VSAT+ in Q4 2018. The service offers global coverage, best-in-class data rates to meet growing demand for high-throughput services, and high levels of reliability, security, resilience and flexibility.
The partnership will enable new value-added solutions for the maritime industry through a network of Master Distributors and partners. They will bring VSAT+ to market and add value in areas such as comprehensive cyber security, ease of installation and 24x7 maintenance availability. The integrated offering makes VSAT+ a compelling proposition for maritime customers such as high-end fisheries, offshore installations and merchant fleets.
Thuraya VSAT+ ensures optimum flexibility by combining Ku-band (for high-speed data) and L-band (for backup and fall back). The service is scalable to meet global and regional needs for essential communications such as voice calls, email and position reporting, and for high-bandwidth requirements such as training, publications, condition-based maintenance, enterprise resource planning and content for crew welfare.