Navy Training, Testing & Marine Mammals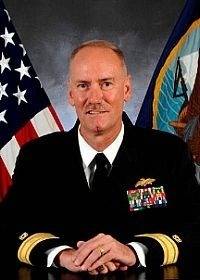 Rear Adm. Kevin R. Slates 
Director, Chief of Naval Operations Energy and Environmental Readiness Division comments on the authorization process:
The Navy is renewing authorizations that will enable us to continue to train and test live sonar and explosives at sea for another five years (2019). The process of renewing authorizations involves analyzing the possible effects of training and testing and making that data publicly available in the form of the Hawaii-Southern California Training and Testing environmental impact statement (HSTT EIS) and the Atlantic Fleet Training and Testing environmental impact statement (AFTT EIS).
Some of the information in those EISs has been misrepresented and exaggerated. Lost in the discussion during a recent meeting of the California Coastal Commission is this fact: the best available science—and the Navy's long track record of conducting similar training and testing—indicate our proposed activities will continue to have negligible effects on marine mammal populations.
The Navy cannot guarantee that our training and testing activities will have zero effects on marine mammals, but for that very reason, we justify our requirements to, and ultimately receive our permits from, the fisheries service. The experts at NMFS will only issue permits if they are confident our proposed activities will have a negligible impact on marine life — and that is exactly what NMFS has determined in its proposed final rule for the Hawaii-Southern California and Atlantic Coast/Gulf of Mexico areas.
We strive to be responsible stewards of the environment as we support America's security and prosperity. I sincerely hope those interested in these issues will focus on the science and the facts, and choose to ignore emotional, non-factual statements.