Training Tips for Ships #12: Training in COVID-19 Times - A "How to Guide"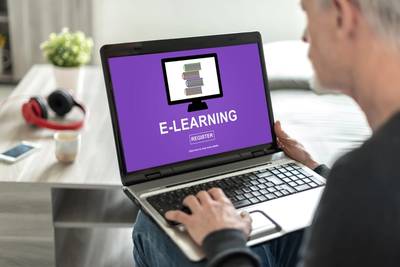 COVID-19 is requiring all operators to reconsider how they train. In-person traditional training is essentially prohibited by this pandemic. So how do operators adapt quickly to maintain compliance and train for safe operations, yet do so in a COVID-safe way? Fortunately, it can be done, and it is not difficult. Furthermore, by taking the steps necessary to deliver training during the pandemic, you will be putting in place systems, tools and content to improve both the outcomes and cost-efficiency of your future training, pandemic or not.
In order to respond to the immediate need, we will focus here on the basics: getting effective training out to those who need it quickly, efficiently and safely. The time will come later for more extensive planning, refinement and measurement. For now – it is all about providing the needed training remotely, and making it available quickly.
Can We Train Remotely? Yes, remote learning has been happening for decades and there is a tremendous body of evidence to show that it is at least as effective, and often more effective than in-person classroom-based training. This applies to all forms of knowledge training – including basic knowledge (such as learning routines, deck layouts, company policies, sanitation basics, etc.) as well as foundational skill knowledge (such as such as where to aim a fire extinguisher, how to sanitize a surface, and the correct sequence for donning PPE). Thus, we can remotely deliver a broad range of knowledge training; even venturing into many areas we would normally think of as skills.
The Required Tools: At this moment, the goal is to deploy effective training quickly. The tools we require are a learning management system (LMS) to deliver on-line training and assessment, and a conferencing tool to allow for real-time interactions.
If you have an LMS already available, great. If not, you will have to select one. While in normal times there would be many criteria to consider in this choice, I'll identify only two core requirements here that must be considered. First, ensure that your LMS allows you to easily deliver your own custom training content and assessments. For example, can you record a short video and quickly make it available to all your learners along with a quiz to test their knowledge? This is important as some LMSs make it difficult or impossible to deploy your own content, instead allowing only the LMS vendor's content and assessments. Second, it is important to decide whether you would like your crew to train while on-board. If the answer is yes, it will be important to choose an LMS which works on-board without connectivity. If the answer is no, then a larger variety of LMSs will do the job.
Second, for real-time interactions between your instructors and learners, a conferencing tool is required. In this case there are many to choose from. Three popular choices are Google Hangouts, Zoom, and Skype. All of these are inexpensive (and allow for a certain amount of free use), are easy to use, are reliable, and support video, audio, screen-sharing and chat functionality. Our customers have made extensive use of all of these without issue. Pick one.
Learning Principles: As above, given the luxury of time, we would look closely at needs and then design a program carefully tailored to address those needs. While that would be ideal, we can still achieve an excellent result by following a few basic principles.
First, can the lecture. Both for efficiency and for improved outcomes, avoid the temptation to simply move the classroom-based model onto a video-chat. Instead, record the lecture you would have given into a series of short videos, and make those available via the LMS. Then, once your learners have watched the recorded lecture videos, use the live conferencing tool to hold a discussion, answer questions, work through problems, etc. Unlike a live lecture, recorded videos will allow learners to repeat material they find challenging or bypass items they already know. This will create a better learning experience and improved learning outcomes.
Next, assess frequently. Use your LMS to create short and simple exams to determine whether the learners know what you need them to know. For example, after they have watched one of the video lectures above, ask them to perform an online exam. This will not only tell you whether your video was effective (and help you improve it), but it is also an important way to convey your learning expectations to the learners. Furthermore, it will serve to stimulate questions for the upcoming live conferencing session. And finally, it will provide motivation to help ensure that the learners watched the video and absorbed as much as they could prior to the remote discussion.
Third, keep your videos bite sized. Although in normal situations you might lecture for an hour or more in a classroom, it is better practice to record very short videos – each a maximum of 10 – 12 minutes. Each video should contain exactly one digestible topic and should be followed by an assessment as mentioned above. This will allow the learner to maintain focus, it will enable them to easily repeat the material they find difficult, and it will allow them to get very quick feedback (via the assessments) before they go too far down the road having missed a foundational piece of knowledge.
And finally – keep growing. Supplement your lessons with written FAQs – providing explanations and responding to the questions often asked by your learners. Expand and refine your video library. Add structure to your discussions. Soon you will have a continuously improving, highly effective learning program that can be deployed over and over.
Clearly there is much more that can be said on this topic. But these basic tools and principles will steer you in the right direction and get you up and going almost immediately.
Good luck, sail safely, and stay healthy!