Marine Pressure Transducer Model: PX2471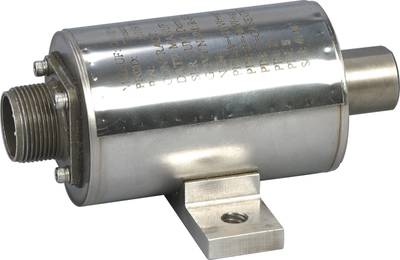 The Model PX2471 Marine Pressure Transducer has been designed to meet the stringent requirements of military standard MIL-T-24742(SH) and when invoked ASTM specification F2070-00. This product is directly interchangeable with other existing pressure transducers designed to MIL-P-24212C(SH) when used with mounting plate assembly A019852.

The Model PX2471 marine pressure transducer is a light weight 18 oz (510 gm) transducer, available in pressure ranges from 15 to 10,000 psi. The output is a loop powered 4 to 20 mA (2 wire current) signal. Applications include naval shipboard use, both surface and sub-surface vessels, as well as general maritime uses. Media compatible with sea water, steam, oil, fresh water, condensate and other gases.

Built for dependability utilizing rugged Sputtered Thin Film Technology and state of the art electronics. Minimal maintenance is required with the non-interacting zero and span adjustments. Calibration test points are easily accessible for system function verification. All mating connectors included.

Omegadyne offers a wide variety of Mil-Spec Marine Pressure Transducers as well as Custom Load Cells and Custom Pressure Transducers.
Source: OMEGADYNE