ST Electronics, Alpha Ori to Drive Digital Transformation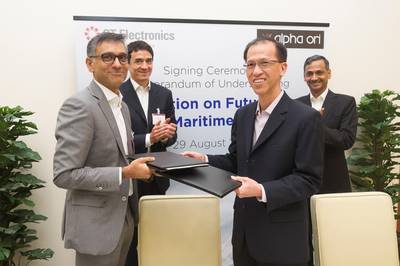 Singapore Technologies Electronics Limited (ST Electronics) and Alpha Ori Technology Holdings Private Limited (Alpha Ori) has signed a Memorandum of Understanding (MOU) to co-create digitalization solutions for shipborne and shore-based maritime fleet control and management. STARRI (ST-Alpha Ori Reliable & Intelligent platform), a unified, secured and smart data lake platform equipped with communications connectivity, ship and environment converged data, data analytics and machine learning will be jointly developed to provide smarter solutions to power maritime Fleet Control Centres for ship management and operations based on berth-to-berth concept out at sea, on passage transit or port calling.
With this collaboration, key maritime industry players will be able to speed up digitalization of their ship operations and enable advances in the automation of traditionally manual processes. Ship owners and operators will also enjoy smarter Fleet Management Systems resulting in better anticipatory capabilities in resource planning, utilization and assets optimization.

"Digitalization will change the landscape of the maritime industry. This partnership will contribute to the digital transformation of the industry with our strong engineering capabilities in data analytics, cybersecurity and cloud-based architecture. This cooperation brings together complementary expertise and capabilities of both companies and I am confident that it will create value for the maritime industry," said Mr Ravinder Singh, President, ST Electronics.
Working with Alpha Ori, ST Electronics will leverage its digitalization expertise to co-create a new data analytics engine with
machine learning solutions
and anti-collision capabilities, enhanced with smart sensors. The partnership will also focus on strengthening cyber security for shipborne systems including Cyber Security Operations Centers for fleet monitoring, cyber protection for critical shipborne control systems and communications transmission protection.
Under the collaboration, applications with smart data analytics software will also be created, enabling the provision of 24x7 Maritime information as a Service (MaaS) on the Cloud platform for both ship owners and operators. This will allow both companies to proactively
pursue business opportunities in Singapore and globally, with innovative digital use cases in the maritime business.