Trump Says USNS Comfort Will Return to Virginia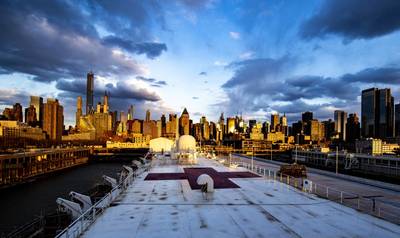 The U.S. Navy hospital ship USNS Comfort (T-AH 20) will soon return to Norfolk, Va., President Trump said Tuesday, less than a month after the ship was deployed to New York to support COVID-19 response efforts.
"I've asked [New York Governer] Andrew [Cuomo] if we could bring the Comfort back to its base in Virginia so that we can have it for other locations, and he said we would be able to do that," Trump said in a coronavirus task force press briefing. "Javits Center has been a great help to them, but we'll be bringing the ship back at the earliest time. And we'll get it ready for its next mission, which will, I'm sure, be a very important one also."
Trump did not say when the ship is expected to depart New York or identify a specific destination for its next deployment.
The Military Sealift Command ship arrived in New York on March 30, initially to serve as a referral hospital for non-coronavirus patients, but the vessel began accepting conronavirus patients within a week of arriving to the epicenter of America's coronavirus outbreak.
"The USNS Comfort was sent, as you know, to New York. And it was originally for more of a normal medical purpose, and we changed it over so that it could take care of people that had the unfortunate circumstance of going through the problem that we — that we know so well; unfortunately, that we know so well," Trump said.
Sister ship USNS Mercy is currently supporting COVID-19 response efforts in Los Angeles.