Two New Patrol Boats for Tunisian Navy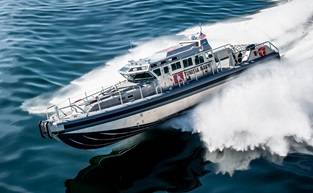 SAFE Boats International informs it has recently completed an order for two SAFE 65-Foot Full Cabin Inboard Boats for the Tunisian Navy.
The first boat has recently arrived in Tunisia and the second boat is in the process of being delivered, the builder said.
The new patrol vessels will provide the Tunisian Navy with enhanced capability to conduct search and rescue operations (SAR) and extended offshore patrols. These boats feature dual 1,600hp diesel engines, shock mitigating seating, climate control, navigation package, and are capable of speeds in excess of 40 knots.
The new vessels will join a fleet of 20 SAFE Boats already in service with the Tunisian Navy: three SAFE 44-Foot Full Cabin Inboards, five 27-Foot Full Cabins, five 25-Foot Full Cabins, and seven 25-Foot Center Console boats.