GE Marine Gas Turbines Selected for US Navy, Coast Guard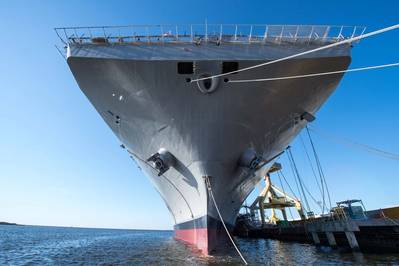 GE's Marine Solutions said its LM2500 family of aeroderivative marine gas turbines have been selected to power two newbuild surface combatants for U.S. Navy and Coast Guard programs.
Specifically, two LM2500+ gas turbines will power Bougainville (LHA 8), the U.S. Navy's newest multi-purpose amphibious assault ship. Construction is expected to begin shortly according to shipbuilder Huntington Ingalls Industries. GE LM2500+ gas turbines also power first-in-class USS America (LHA 6) and Tripoli (LHA 7). Tripoli is currently under construction and was launched on May 1; it will be christened on September 16, 2017. The LHA ships use the same LM2500+ gas turbine hybrid electric propulsion system as the U.S. Navy's USS Makin Island (LHD 8) amphibious assault ship. Thanks to this unique propulsion system, the U.S. Navy expects to see fuel savings of more than $250 million over the course of the ship's life cycle.
Separately, a GE LM2500 engine in a combined diesel and gas turbine propulsion system will power the U.S. Coast Guard's ninth National Security Cutter (NSC). All ships in the NSC Legend class feature the same LM2500 gas turbine system.
Kimball (NSC 7) was launched by Huntington Ingalls Industries in Pascagoula,
Mississippi
, on March 4, 2017; the keel for sister ship Midgett (NSC 8) was authenticated on January 27, 2017.
GE marine gas turbines can be applied in a variety of propulsion configurations so naval architects have the design flexibility to best match speed, endurance and mission payload requirements. The LM2500 family of marine gas turbines is manufactured at GE's Evendale, Ohio, factory.
 
The U.S. Navy is GE's largest marine gas turbine customer, taking delivery of over 700 LM2500 family of engines that operate aboard surface combatants such as frigates and destroyers. Globally, more than 1,450 GE gas turbines log over 15 million hours serving 35 navies on 600 naval ships for 100 military ship programs ranging from cruisers, patrol boats and corvettes to frigates, amphibious ships and aircraft carriers.