Twin Disc Acquires Veth Propulsion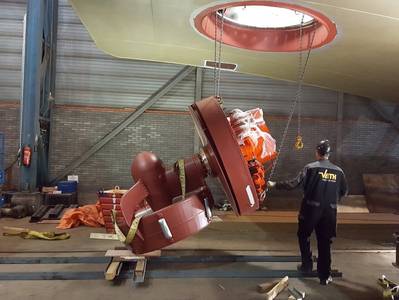 U.S. based power transmission technology and equipment manufacturer Twin Disc, Inc. announced it has entered into a definitive agreement to acquire the Netherlands based marine propulsion products supplier Veth Propulsion Holding, B.V. and its wholly-owned subsidiaries.
Twin Disc said the purchase price is approximately $58.6 million plus net cash, with potential adjustments based on Veth Propulsion's working capital as of the closing date, and will be financed through a combination of cash and new debt facilities. Additional consideration of up to approximately $3.9 million will be paid in Twin Disc common stock if certain earn-out provisions are met. The acquisition is expected to be completed in July 2018 and is subject to typical closing conditions.
Veth Propulsion manufactures azimuth rudder propellers, thrusters and generator sets, and is a supplier and repairer of diesel engines. In December 2015, Veth Propulsion selected Twin Disc as its distributor for select Asian markets, and in 2016 it expanded the relationship with a North American distribution partnership.\
"Twin Disc has worked with Veth Propulsion for over two years and the companies share similar cultures based on providing customers with high-quality products and leading design, engineering and manufacturing services," said John H. Batten, President and CEO of Twin Disc. "Veth Propulsion strategically expands our global market opportunity, increases our size, scale and scope within the marine industry, and diversifies our end-market penetration. This is part of our continual strategy to diversify our geographies, markets and products."
According to Twin Disc, Veth Propulsion's broad and complementary product portfolio provides added value to new and existing customers. The acquisition further globalizes Twin Disc's engineering talent and creates opportunities for faster marine and propulsion product development, including hybrid technologies, and reduces Twin Disc's dependence on oil and gas, with new technology and sales outside of this market. It also produces compelling value creation opportunity, with strong earnings accretion and continued balance sheet flexibility, while creating significant synergy opportunities through increased global sales, service and after-sales support of up to $2 million in operating income on an annual basis by fiscal year 2021.
"Veth Propulsion has extensive experience in engineering and product development that will enhance our current product portfolio," continued Batten. "Innovations like Veth Propulsion's industry-recognized Hybrid Drive and Integrated L-Drive will open new markets and opportunities for growth for Twin Disc."
"The market for azimuth thruster systems is well established," said Erik Veth, General Manager. "This partnership provides Veth Propulsion with the opportunity for increased growth with world-class service and support in a truly global market. The Veth Propulsion management team views Twin Disc as the perfect acquirer of Veth Propulsion, and we believe that Veth Propulsion's growth and success will be enhanced under Twin Disc's ownership."
For calendar 2018, Veth Propulsion is expected to achieve sales of $60 million. The acquisition is expected to be accretive to Twin Disc's U.S. GAAP earnings by the second year of ownership, in fiscal year ended June 30, 2020.
As part of the acquisition, Twin Disc expects to close a new $50 million asset-based line of credit and $35 million term note.