Two RAstar 3200 Vessels Christened in HK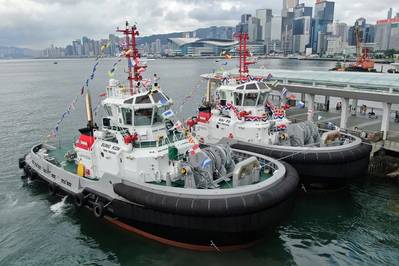 Hongkong Salvage & Towage, a division of HUD Group, has added two new high-performance tugs to their fleet.

A press release from Robert Allan Ltd.(RAL) said that RAstar 3200 vessels, designed by RAL, which are named MAI PO and SUNG KONG, are the most powerful harbor tugs operating in Hong Kong harbour.

The tugs were built by Cheoy Lee Shipyards and join four other Robert Allan Ltd. designs, also built by Cheoy Lee, it said.

"The RAstar escort/offshore terminal tug designation is reserved for a distinctive class of very high-performance ASD tugs," claimed RAL.

The tugs are designed and built in accordance with Lloyd's Register of Shipping.

The tugs exceeded the Owner's requirements at sea trials, achieving speeds in excess of 13 knots and BP in excess of 80 tonnes.

The vessels are equipped for off-ship fire-fighting capability to Fi-Fi 1 standard with water spray. They are rated for indirect escort manoeuvres in addition to ship-handling operations.