Ultra-silent Propulsion for New Research Vessel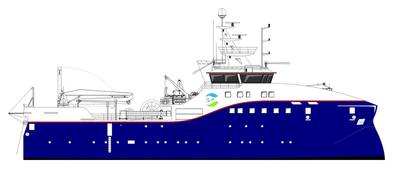 When the
Faroe Islands Marine
Research Institute's new research vessel enters operation in mid-2020, research personnel on board will be able to carry out their tasks with greater effectiveness thanks to a high-tech, ultra-silent propulsion package from Wärtsilä.
The new 54-meter-long ship, which is being built at the MEST shipyard in the Faroes for the Faroese Government organization, will feature a propulsion system that limits underwater radiated noise (URN) and which meets the DNV Silent R notation.
The solution is made possible through the manufacturer's in-house competences in silent diesel generator sets, propeller shaft lines and electrical and automation (E&A) systems, Wärtsilä said.
The vessel will be powered by two eight-cylinder Wärtsilä 20 engines and will have a silent Wärtsilä fixed pitch propeller and complete shaft line. The solution is also very compact, resulting in reduced acoustic signals. Wärtsilä will also supply a selective catalytic reduction (SCR) system to clean the engine exhaust of nitrogen oxide (NOx) emissions.
Upon entering service in mid-2020, the new ship will be used to help provide a basis for the responsible exploitation of the marine resources around the Faroe Islands.