SMS Undertakes Huge Refit for Red Funnel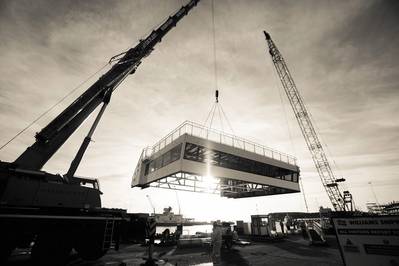 Southampton headquartered ship repairer and marine engineering services provider SMS has completed a major refit within the U.K. Port of Southampton at Williams Shipping's specialist repair berth for the Isle of Wight operator Red Funnel.
SMS has completed the build and installation of a two new 17-metric-ton aluminum passenger lounges on board the Red Eagle ferry in partnership with its sister co. the Wight Shipyard Company.
Chris Norman, the Managing Director of SMS, said, "This project is a great example of our in-house capability.
"Seventeen [metric ton] of aluminium, over 2,500 man hours, and an increase of internal passenger capacity by some 30 percent. This is a complete turn-key project from newbuild fabrication to onboard installation."
The build program took circa six weeks at SMS's sister company the Wight Shipyard Company (builders of Red Jet 6 & 7) with the installation revolving around the following key milestones over a four week period: clearing the decks and fitting the upstand, shipping the units from the Island and fitting them, clearing circa 80 percent of the two units for the fitout team, completing the window installations and then finally the snagging and client agreed extras.
Mark Slawson, the Fleet and Technical Director of Red Funnel, said, "The fitting of new lounges and the refurbishment of the existing ones has increased the internal passenger seating availability by 200, to a total of 550 internal seats.
"The A Deck lounges have a much improved café area at the North End and a new Signature Lounge at the South End, which means that we now have commonality across the fleet.
"The Signature Lounge is a Premier offering with slightly less capacity than the other lounges, increased comfort, personal service and drinks and pastries included in the price."
He went on to say: "Fitting the extra lounges has allowed for the refurbishment and extension of the passenger lift system to include the higher deck, allowing less mobile passengers the option to be able to travel on the upper deck should they wish."
SMS MD Chris said, "Turn-key projects are becoming increasingly important to our customer base.
"In this instance we completed steel work foundations, pipework's and major modification to the bulwarks and all associated paint work.
"We've also made significant investment in a bespoke joiners shop in Southampton as interior outfit is now playing a major part of SMS's growth - and we continue to focus on the local shipping community; the likes of Red Funnel, Svitzer, Williams Shipping and Carnival are so very important to our future development.
"This £3 million ($4 million) investment by Red Funnel is just one example of the commitment that many of our customers are making to the local industry - it's a genuinely exciting time and we're thrilled to be such a big part of it."