Navy's Unmanned Plane Take-Off a Seminal 2013 Navy Event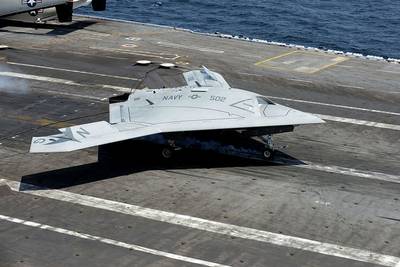 The first-ever launch of an unmanned aircraft from a modern aircraft carrier, the USS George H.W. Bush, was described by Rear Adm. Mat Winter 
Program Executive Officer for Unmanned Aviation and Strike Weapons, as – "An inflection point in history". He adds:

"These are exciting times for the Navy as we are truly doing something that has never been done before – something I never imagined could be done during my 29-year naval career.

This historic event challenges the paradigm of manned carrier landings that were first conducted more than 90 years ago. In that challenge though, comes a respect and admiration for all those naval aviators – past and present – that have ensured the value of the Navy aircraft carrier/carrier air wing team.

The addition of unmanned aviation to this formidable, power projection team provides a complementary capability, which will ensure carrier naval aviation remains viable and relevant for decades to come. It also shows our collective readiness within naval aviation to embrace these future opportunities to move forward with unmanned carrier aviation. This is a big deal!

As we sit here ready to begin a new chapter of naval aviation, I am humbled and privileged to be part of this event, which our future family, friends, Sailors and Marines will learn about in their history lessons 50+ years from now. Congratulations to the military, government civilian and industry teams from UCAS, PEO(U&W), Naval Air Systems Command and USS George H.W. Bush for getting us to this milestone and truly making history."