CMA CGM Upgrades SAMWAF Service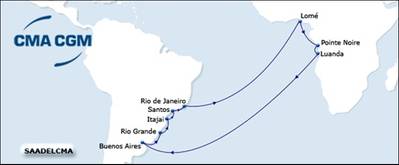 The CMA CGM group announced an upgrade on its SAMWAF service with direct and regular calls on the South America East Coast - West Africa trade, as from the end of May, 2014. The upgrade will bring to the service larger vessels and add two new calls in Lomé (Togo) and Rio de Janeiro (Brazil).

CMA CGM said the new structure reinforces and strengthens the commitment of the group to develop the relationship between South America and Africa and offers a wide range of connection opportunities through local feeders, barges and transshipment to:
Montevideo (Uruguay) and Asuncion (Paraguay), via Itajaí, and;
Ivory Coast, Nigeria, Ghana, Senegal and other African destinations available via our Lomé hub.

Inland transportation is also provided by integrated intermodal solutions, being the SAMWAF service the gateway to connect the Brazilian and African markets.

The new service configuration will be settled in two stages:
Phase 1 - From the end of May to August 2014: CMA CGM will share allocation on 2500 TEU NileDutch vessels.
Phase 2 - From August 2014 onwards: CMA CGM Group and NileDutch will enter into Vessel Sharing Agreement. Four vessels of 4250 TEU will be operated, of which two will be contributed by CMA CGM and two by NileDutch.

The service, that provides bimonthly departures, will operate according to the following rotation: Buenos Aires, Rio Grande, Itajaí, Santos, Rio de Janeiro, Lomé, Pointe Noire, Luanda, Buenos Aires.

cma-cgm.com