US Coast Guard Cutter Docks in Japan After Shipboard Fire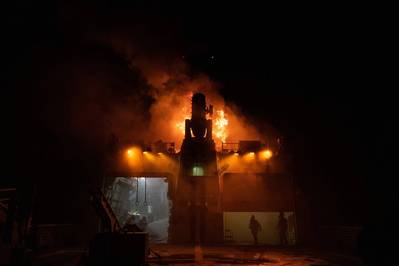 A fire-stricken U.S. Coast Guard cutter docked in Yokosuka, Japan Tuesday for inspection and possible repairs days after an onboard blaze left five crew members with minor injuries.
Black smoke was reported on the cutter Waesche (WMSL 751) at 5:18 p.m. (local time) on Sunday while the ship was on deployed within the U.S. 7th Fleet's area of operations, the Coast Guard said.
Onboard crews were able to contain the flames in the ship' exhaust stack and nearby spaces, and all fires were confirmed extinguished after 90 minutes of firefighting.
"The rapid response and courageous efforts from the crewmembers aboard Waesche to quickly contain and extinguish the fire are a testament to the bravery and skill of this crew," said Capt. Jason Ryan, Waesche's commanding officer.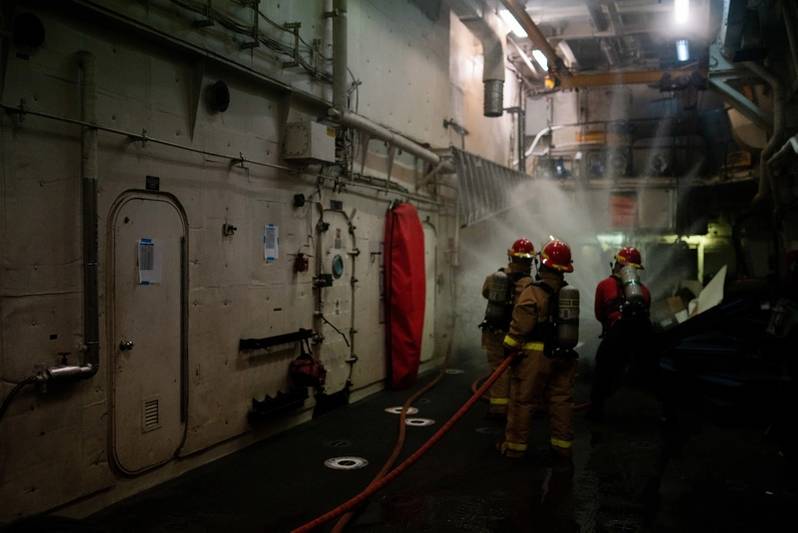 A fire team on board Waesche cools bulk heads in the hangar during a shipboard fire in the Western Pacific Ocean. (Coast Guard photo Aidan Cooney)
Five crew members sustained minor injuries during firefighting efforts, and all were treated by medical personnel on board the ship, according to a Coast Guard statement.
The Coast Guard said the cause of the fire and extent of the damages are currently under investigation, and that further inspection will take place at Fleet Forces Yokosuka. It's possible the cutter may require repairs while in Yokosuka, home to the U.S. Naval Ship Repair Facility and Japan Regional Maintenance Center.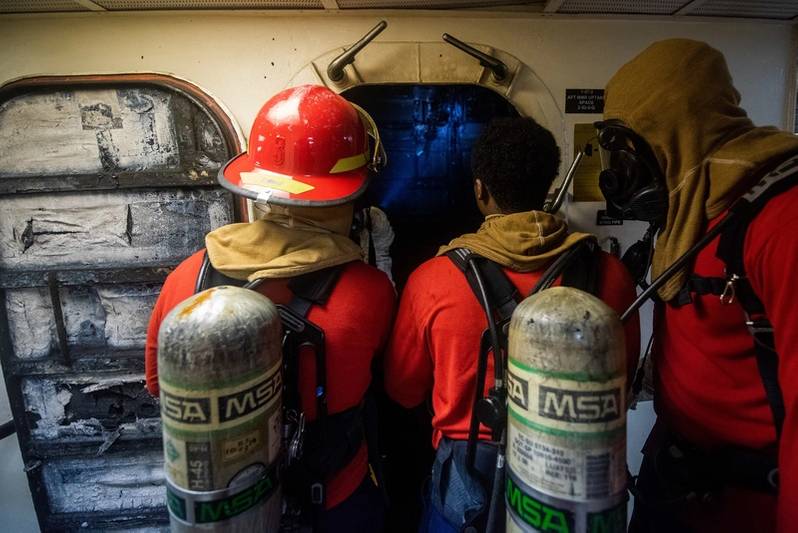 Coastguardsmen survey fire damage on board the Legend-class national security cutter (Coast Guard Photo by Petty Officer 3rd Class Aidan Cooney)
Commissioned in 2010, Waesche is the Coast Guard's second 418-foot Legend-class national security cutter and one of four homeported in Alameda, Calif. National security cutters have a crew of more than 150 and are among the largest and most technologically sophisticated vessels in the Coast Guard's fleet.
The cutter left its homeport on August 22 and is currently under the tactical control of U.S. 7th Fleet as part of the United States' routine presence operations in the Indo-Pacific, where the Coast Guard has increased its presence in recent months. Last year, cutters Bertholf and Stratton deployed for a combined 326 days to the Western Pacific.
The ships participate in training exercises with regional partners, help combat illegal fishing and enforce United Nations Security Council resolutions against the North Korea by monitoring and gathering intelligence on vessels conducting ship-to-ship transfers in the East China, South China and Yellow Seas.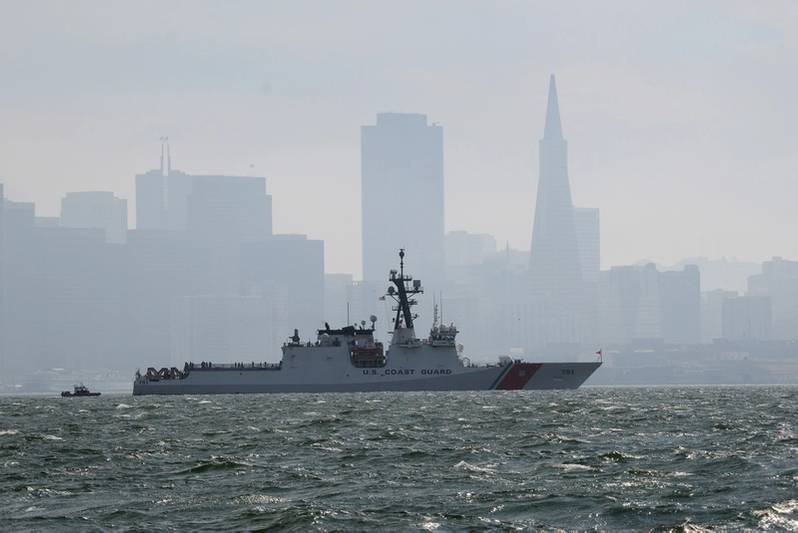 Waesche transits the San Francisco Bay on August 22, 2020. (U.S. Coast Guard photo by Matthew S. Masaschi)