USCG Takes Delivery of First Upgraded 47' Motor Lifeboat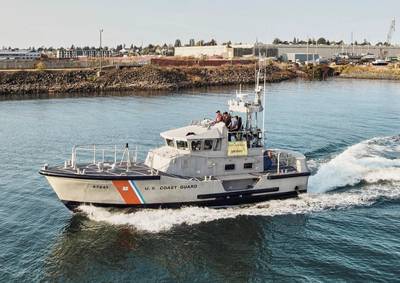 The U.S. Coast Guard recently accepted the Birdon America's first upgraded 47-foot Motor Lifeboat (47 MLB) at the agency's National Motor Lifeboat School (NMLBS) in Ilwaco, Wash., completing the first major milestone in the MLB Service Life Extension Program (SLEP). The first article vessel will undergo a four-month operational assessment by members of NMLBS.
The 47 MLB is the Coast Guard's standard lifeboat, designed to weather hurricane force winds and heavy seas, capable of surviving winds up to 60 knots, breaking surf up to 20 feet and impacts up to three Gs. And, if the boat should capsize, it self-rights with all equipment remaining fully functional.
The current in-service MLBs were built from 1997 to 2003 and are now approaching the end of their original 25-year service life, so in August 2019 the Coast Guard awarded Birdon America a $190 million contract to perform the SLEP for its 47 MLB fleet. The firm-fixed price, indefinite delivery, indefinite quantity contract is for the design, development, testing and upgrade/build of USCG MLBs over a period of five years with an option for an additional five years.
The goal of the SLEP is to extend the 47 MLBs' service life for an additional 20 years and retain or exceed their original operational capabilities and characteristics.
The West Coast SLEP activities are being performed at All American Marine in Bellingham, Wash., and work for vessels on the other side of the country will take place at an East Coast shipyard from 2022.
The design for the 47C MLB configuration was primarily completed using Denver-based Birdon America's internal team of naval architects and engineers, with support from major component suppliers. Birdon said it designed the 47C configuration of the 47 MLB for optimal performance, crew safety and ergonomics and fuel economy.
The systems are designed to reduce total ownership cost and improve reliability and maintainability. Powered by twin diesel engines and a standard v-drive/shaft/propeller propulsion system configuration, the 47C meets the U.S. Coast Guard technical requirements and exceeds requirements in the areas of fuel economy and noise. The boat is fitted with new consoles, navigation systems, fire suppression systems, crew seating, lighting, power generation and electrical system components.
"Birdon America is proud to have delivered this new capability and looks forward to the operational assessment and a long-term relationship with the Coast Guard," said Jim Ducker, President, Birdon America Inc. "The 47C MLB configuration represents a significant upgrade in overall performance for this very capable and familiar vessel to the Coast Guard.
"This is just the beginning of a long process to upgrade the entire fleet of 47 MLB vessels, and Birdon is ready to move forward with this transformation," Ducker said.