Van Oord Enacts Hopper Dredger Option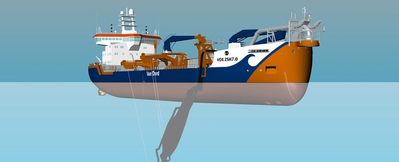 Van Oord has decided to use the option of ordering a third trailing suction hopper dredger at Keppel FELS Limited. The vessel is similar to the two vessels that Van Oord ordered in May 2018. Each one has a hopper capacity of approximately 10,500 cubic meters and measures 138 meters in length and 28 meters across the beam.
This investment is part of a broader fleet renewal program in the Dredging business unit. The new hoppers will replace existing vessels and fit in with Van Oord's aim of making its fleet state-of-the-art and more energy efficient. For example, the climate control system on board will utilize the vessel's existing cooling and heating sources to recycle energy as efficiently as possible. Another innovative factor is the extensive degree of automation. The automated systems will be more advanced than even before, and integrated vessel data is easily being processed by a shore support center.
The vessels will each be equipped with a suction pipe with submerged e-driven dredge pump, two shore discharge dredge pumps, five bottom doors, and a total installed power of 14,500 kW. They will have accommodation for 22 persons. The vessels will obtain a Green Passport and Clean Ship Notation. The first two vessels, Vox Ariane and Vox Apolonia, will be delivered in 2021. The third vessel will be delivered in 2022.
The new vessels will be Dutch flagged. Currently Van Oord's fleet consists of more than 100 vessels with more than 20 trailing suction hopper dredgers with a capacity from 1,000 cu. m. up to 38,000 cu. m. .