Venerable Floating Radio Station Ship Repair Job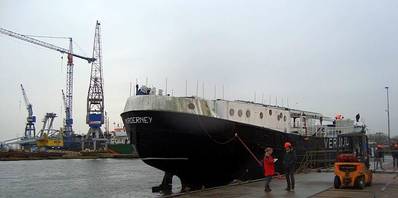 Damen subsidiary Oranjewerf Ship Repair to overhaul the former Radio Veronica ship 'Norderney'.

The legendary former Radio Veronica base-station ship was built in 1949, and after duty as the Iceland trawler MV HH 294 Paul Müller, was renamed Nordeney to become one of the first 'pirate radio stations', anchored well offshore out of the jurisdiction of government broadcasting authorities.

Oranjewerf commercial manager Jeen van der Werf is proud to mention that the yard acquired the order from Entertainment International, although, so far, the commission is limited to remove biofouling – in Dutch called 'clip & shear' literally translated – and to apply a new layer of paint on the hull. When these jobs have been done, the Norderney will be towed to Northern Netherlands Groningen. 



Once there the old ship will be refurbished to become a multifunctional floating venue for radio and TV broadcasting, Internet, song, dance and comedy performances.

Before that will actually happen, all eyes are set on the arrival of the Norderney in IJ waters. The Oranjewerf is situated in a curve opposite Central Station in Amsterdam and commercial manager Van der Werf takes the possibility into account that quite a few spectators will come to witness Norderney's arrival at the ship yard, particularly when it is known that Veronica DJ Erik de Zwart of the former pirate radio-station Veronica (a Radio Caroline look-alike) will be present to welcome 'his' radio ship.