Martha's Vineyard Ferry Powered by MTU Engines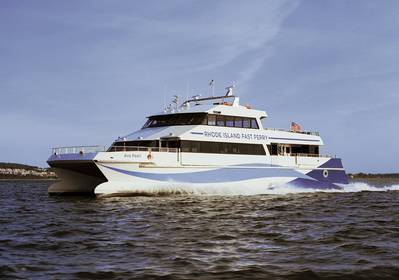 MTU Series 4000 engines power new catamaran passenger ferry on Martha's Vineyard route; Rhode Island Fast Ferry's new propeller-driven vessel is lighter, faster and more fuel efficient than its predecessor.

The Ava Pearl, a new catamaran operated by Rhode Island Fast Ferry, is meeting the ferry service's goal of fuel-efficient operation thanks to the vessel's twin MTU 12V4000 M53 engines from Tognum America. The 34-meter passenger vessel, designed by Incat Crowther and built by Gladding-Hearn Shipbuilding, makes three daily round-trips between North Kingstown, R.I., and Oak Bluffs on Martha's Vineyard, Mass., a one-way distance of 52 miles. In the first two months of operation, the 150-passenger Ava Pearl logged more than 18,700 sea-miles and the fuel savings have added up.

"The vessel is performing up to our expectations," said Charles A. Donadio, Jr., president and owner of Rhode Island Fast Ferry. "The ride is very smooth and we're enjoying a 30 percent fuel savings compared to a larger vessel we used to use on this route. The new Ava Pearl was designed and built just specifically for the open waters between Rhode Island and the island of Martha's Vineyard." Donadio said he selected the MTU engines based on their dependability, their superior fuel-efficiency and the availability of MTU service and support.

The MTU engines, produced by Tognum, were supplied by New England Detroit Diesel Allison (NEDDA), the local MTU distributor located in Wakefield, Mass. "The 1,851 hp MTU 12V4000 M53 engines we supplied are continuous-rated because the customer wanted to extend the time between overhauls as much as possible," said Dave Taglieri, marine sales manager with NEDDA. "Even operating at constant high speed, this rating will provide at least 30,000 hours of operation between overhauls."

The vessel is propeller-driven and features a more traditional driveline for simplicity. Donadio said that at the boat's operating speed of 29.5 knots, propellers deliver higher efficiency than the water jets used on the previous vessel. The Ava Pearl will be used for the Martha's Vineyard ferry service from May to October and then be available for charter in the off-season, he said.