Latest Virginia-class Submarine Christened 'North Dakota'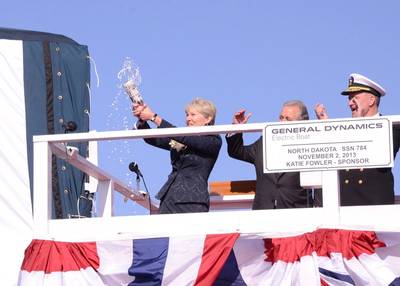 The Navy's 11th Virginia-class attack submarine was christened in Groton, Conn during a late-morning ceremony at the General Dynamics Electric Boat (GDEB) shipyard.
he ceremony marked the official naming of Pre-Commissioning Unit (PCU) North Dakota (SSN 784). The ship is currently under construction by both GDEB and Newport News Shipbuilding, a division of Huntington Ingalls Industries, through a teaming arrangement.

Ship sponsor Katie Fowler, wife of retired Vice Adm. Jeff Fowler, was on hand to officially christen the submarine by breaking a bottle of sparkling wine against the back of the boat's sail. 

"In the name of the United States, I christen thee North Dakota. May God bless her and all that sail in her," said Mrs. Fowler just before giving the bottle a brisk swing.



During keynote remarks, Commander Submarine Forces Vice Adm. Michael Connor told more than 4,500 dignitaries, Sailors, and shipyard personnel in attendance that the Navy needs the nuclear-powered attack submarine as soon as "practical."


North Dakota will be able to attack targets ashore with highly accurate Tomahawk cruise missiles and conduct covert long-term surveillance of land areas, littoral waters or other sea-based forces. Its reactor plant is designed so that it will not require refueling during the planned life of the ship, reducing lifecycle costs while increasing time at sea.