Washington State Ferry Tacoma Returns to Service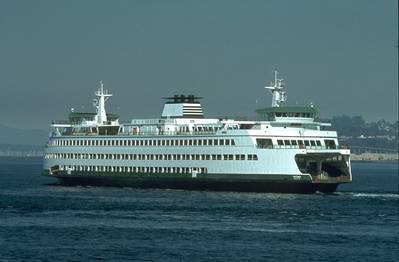 Washington State Ferry M/V Tacoma will return to work on the Seattle/Bainbridge Island route starting March 28 after suffering electrical damage last summer.
The Tacoma lost power and suffered significant damage to its electrical switchboard system transiting from Seattle to Bainbridge Island in July 2014, requiring ferry maintenance workers, engineers and contractors to spend eight months inspecting and rebuilding the system. In mid-March, crews conducted a battery of tests at the dock and at sea to ensure the electrical system is fully operational. The vessel has received approval from the
U.S. Coast Guard
to reenter operation.
"Safety of our customers and crew is our top priority. I'm confident the repairs made to the Tacoma and the lessons learned from this incident ensure the vessel's readiness to safely operate and carry passengers," said Assistant Secretary for the Washington State Ferries Division Lynne Griffith. "I commend the crew for their swift actions when this incident occurred."
The initial incident occurred when a protective device in the circuit breaker control failed, which led to a chain of events that caused a full loss of power. A Board of Inquiry was appointed to investigate the incident, identify the causes and contributing factors, recommend corrective action and capture lessons learned.
The WSF Board of Inquiry's recently completed investigation confirmed the failure was a characteristic of the manufacturer's design. WSF modified the electrical switchboard systems on the other Jumbo Mark II Class vessels, Puyallup and Wenatchee. Crews will replace the circuit breakers during regular maintenance periods to ensure this type of failure does not happen again.
Built in 1997, the Tacoma is one of three Jumbo Mark II Class ferries, the largest class in the Washington State Ferries fleet.