Washington State Ferries' Cathlamet Repaired After Terminal Allision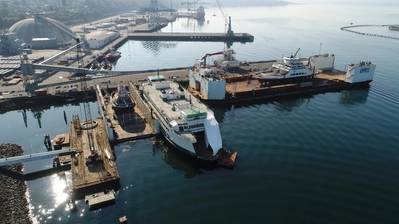 A Washington State Ferries (WSF) vessel has been repaired after it allided into the Fauntleroy dock in Seattle last summer.
Everett, Wash. repair yard Everett Ship Repair (ESR) served as the prime contractor for emergency repairs to WSF's Cathlamet, and it subcontracted sister-company Nichols Brothers Boat Builders (NBBB) to construct a new steel pickle fork at its facility on Whidbey Island. A pickle fork is the area of a passenger deck extending above the end of the car decks like two prongs.
Cathlamet suffered "significant damage" as the result of a "hard landing" at the Fauntleroy terminal in Seattle on on July 28, 2022. The damaged ferry arrived at ESR on August 29, and a project scope of work process was identified through coordination between WSF and ESR.
First the vessel was inspected, followed by engineering and design for the affected areas and new-fabricated modules. Upon design completion, the pickle fork module was erected at NBBB and loaded onto a barge and transferred to ESR to install and paint on board the drydocked vessel. Under-waterline work was also performed.
With repair job completed, Cathlamet was towed back to Eagle Harbor to reunite with the WSF fleet on March 2, and the vessel will soon return to service.
"As an emergency repair job, the M/V Cathlamet project was a unique opportunity for NBBB and ESR to create and execute an agile repair plan that utilized the companies' capabilities in both new construction and repair," said Kristin Burkhart, project manager at ESR. "ESR and NBBB teams coordinated and worked to complete this repair scope using rolling wave planning to integrate conditions found into production execution and sequencing in the goal of delivering the M/V Cathlamet back into service with quality repair work performed efficiently."
Both ESR and NBBB already had working relationships with WSF prior to the project. A local drydocking contractor for WSF since 2020, ESR is capable of docking all vessels within WSF's fleet using ESR's Faithful Servant drydock, which accommodates vessels up to 436-by 110 feet with a lifting capacity of more than 8,000 tons. NBBB also has significate experience with WSF, having built six new-construction superstructures for WSf's Kwa-di-Tabil class and Olympic class ferries.
Gavin Higgins, CEO of both ESR and NBBB, said, "Our crews are very familiar with WSF vessels, not only do we repair and build the vessels, we are also routine passengers on the Mukilteo/Clinton route. The WSF system is very important to each and every one of us and our businesses."