New Wastewater Treatment for Queen Mary 2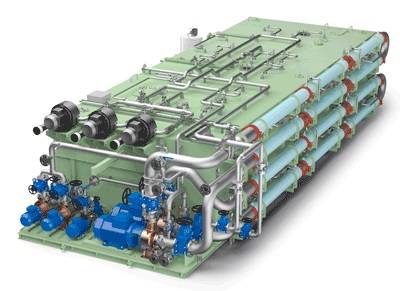 Cunard's Queen Mary 2 will be fitted with a Wärtsilä advanced
wastewater treatment system
, enabling the cruise ship to comply with the IMO's requirements concerning the prevention of pollution from ships.
The contract, awarded by Cunard Line during the third quarter of2014, will see the installation of two Wärtsilä's Hamworthy Membrane BioReactor (MBR) systems to replace existing onboard solutions which are now due for replacement.
Wärtsilä said its MBR solution is designed to facilitate the management and treatment of both grey and black wastewater, while also monitoring discharges to the sea.
The 2,620 passenger capacity Queen Mary 2 entered service in 2004 and was designed with the aim of reducing the vessel's impact on the environment through more efficient management of waste. The ship is powered by four Wärtsilä main engines.
"Environmental performance is of ever increasing importance throughout the marine industry, but especially so for cruise ships and ferries," said Juha Kytölä, Vice President, Environmental Solutions, Wärtsilä Ship Power. "Wärtsilä's in-house know-how and broad experience in wastewater treatment and management systems for ships were crucial factors in the award of this important contract."