MJP Waterjets in TYM Fast Attack Craft Trials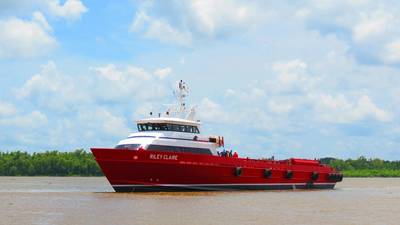 Successful sea trials of Tampa Yacht Manufacturing's latest 50 Fast Attack Craft won praise for the performance of MJP waterjets.

The 50' Fast Attack Craft is a carbon-fibre reinforced, GRP 16.15M (53') LOA, patrol vessel with a beam of 4.43M (14'8-1/2"). The design has been a best seller for Tampa Yacht Manufacturing and exists in multiple mission configurations. The latest craft is the first to have been equipped with MJP waterjets but retains the standard MAN R6 800HP diesel engines running at 2,350rpm, and a ZF 500 Gearbox at 1.125:1 Ratio. The MJP 350 DRB waterjets installed are fitted with a six-blade stainless steel impeller.

During sea trials in June 2014 in Tampa Bay, Florida, the fully laden, battle-ready condition vessel reached an average top speed of 46.0 knots at full engine load and consumed 40.70 gallons of diesel per hour. Stevens was delighted at the performance boost. "This will make the MJP jets a key component in delivering the performance our customers expect" he said. "We are very pleased with the performance of the vessel and the MJP waterjets have given a huge performance boost to an already world class design" said Stevens adding that he considers the MJP jets to be "the Swiss watches of waterjets built from high quality materials and with an exceptional standard of fit and finish."

During the trials, acceleration performance from 0-25kts averaged 23.8 seconds. Another set of acceleration trials conducted from 0-35 knots averaged 34.4 seconds. All test were conducted with the vessel fully laden total weight of 48,596 lbs (24 tonnes). The tested vessel was the first to feature implementation of the Ultrajet control system with MJP's stainless steel waterjets. This implementation allows for the familiarity and ease of installation and the lower cost of the Ultrajet control system to be matched with the high performance duplex stainless steel MJP waterjets.