FCI Debuts Compact, High Output Watermaker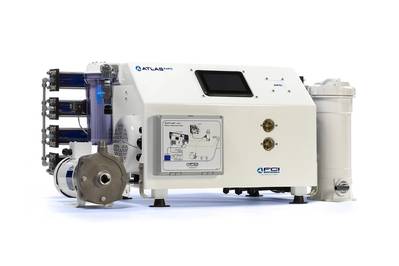 Space is a precious commodity on any vessel, even a large one. Making its debut at the Miami International Boat Show, FCI Watermakers' new Atlas+APC is compact, yet produces 1,400-3,600 gallons of potable water per day and is fully automatic in its operation. Suited for the large yacht or commercial vessel, the watermaker is engineered and built for extended run times.

The Atlas+APC is manufactured in the U.S. to commercial standards for reliability. Its robust stainless steel drive components are sized for extended run times and to quickly make ample amounts of water.

The Atlas+APC is simple to configure using its V4 controller. It bears type approval certifications from ABS, GL, Lloyd's Register EMEA, Det Norske Veritas and the Russian Maritime Register of Shipping. An intuitive menu on the 7" marine-grade, bridge certified touch screen makes it easy to program it to automatically start, make water, run diagnostics and perform a flush. Once set up, the watermaking process completely touch-free.

The Atlas+APC's one piece powder-coated aluminum frame is open to provide access for maintenance and inspection, and is only 31.6" L x 20.5" W x 18.2" D. It's extremely quiet and vibration-free, thanks to its quality components and advanced dual shock mounting system, the manufacturer said. It uses only nonproprietary parts and components for low cost and ease of access.