Wesmar's Vertical Anchor Windlass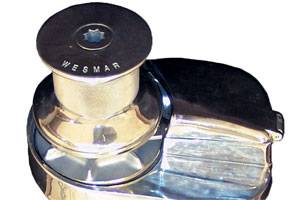 Wesmar is introducing the new WM3500 Stainless Steel Vertical Anchor Windlass.
The Wesmar Anchor Windlass addresses the critical act of anchoring, quicker and more safely. With a touch of a button, the Vertical Anchor Windlass provides stress-free anchoring, requiring minimal crew and effort. The risk of accidents is next to none with a safety lock to help protect against unintentional windlass deployment.
Ross Lund of Classic Yacht Service in Fort Myers said, "The windlass works great, everyone loves it. I have a customer who dives a lot, anchoring multiple times a day. He says the windlass has been flawless."
Key features of the Vertical Anchor Windlass include:
• Polished stainless steel drum, chain wheel and pedestal base
• Combination chain and rope function
• Commercial duty, high torque, hydraulic motor
• Preset stopping on retrieval
• Improved rope grip