Workboat with MAN EPA Tier 3 Engine Launched in the US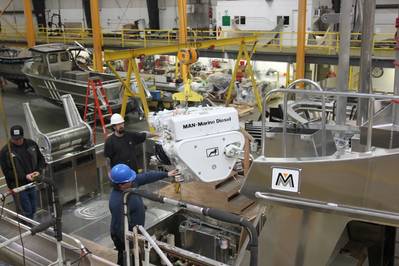 "Ava Jane", was launched in Washington state on April 15 as the first workboat with a MAN EPA Tier 3 commercially certified engine. Right in time, the German engine manufacturer made its entire product line conform with the current emission standards, by optimizing the internal engine design without increasing its fuel consumption at full load.


RDI Marine, MAN's west coast distributor has been heavily involved in the workboat industry since the early 90's. They commissioned the installation on April 21, and since then the boat is operating on Puget Sound for an extensive testing by its new owner. Capable of running at speeds of over 25 knots, the 32ft. gillnetter for the salmon fisheries will be one of the highest performers in Bristol Bay when it arrives there for the 2014 season. The boat is equipped with a MAN in-line six cylinder engine with an output of 537kW (730hp) at 2,300 rpm. Like all other MAN engines, it fulfills the U.S. emission standards for commercial use (EPA Tier 3) since January 2014; and is therefore extremely environmental friendly. The current regulation required a 20% reduction in nitrous oxides and additional 40% reduction in particle emission compared to EPA Tier 2.


Compact and Efficient Despite EPA Tier 3
At its International Engine Competence Center in Nuremberg (Germany), MAN adjusted all sixteen performance levels of the in-line six cylinder en-gines as well as the V8 and V12 new generation engines to meet the new emission standard in time. Neither an after exhaust recirculation nor an exhaust after treatment system had to be used. Because of the internal optimization of the engine there was no need to add on any additional emission reducing components. Therefore the MAN engines compact size was not affected. "Our commitment to achieve the highest level of efficiency we also fulfilled with our EPA Tier 3 engines. As one example, we have set a new benchmark for fuel consumption with our MAN D2862 engine for heavy duty applications and that reflects very positive in the total costs of ownership", says Reiner Roessner, Head of Sales for MAN Engines. George Dauber, a Bristol Bay fisherman with 35 years of experience, and heavily involved with the Mavrik Marine shipyard in the "Ava Jane" project, can't speak highly enough of the R6-730: "The MAN engine has no equal when it comes to overall vessel noise comfort whether it is in the pilothouse or on the working deck. The engine is unequaled in maintaining its quietness throughout the entire rpm range."


Broad Engine Range for Workboats – Even for EPA Tier 3
MAN offers a broad range of high-speed four-stroke diesel engines for commercial marine applications. For heavy duty applications – unlimited operating hours at up to 100% load – including tug and other workboats, MAN offers an output range from 190 to 735 kW (258 to 1,000 hp) at 1,800 rpm. For medium duty applications (up to 4,000 hours per year at a full-load operation share of up to 50%), including for ferries, fishing boats, and pas-senger boats, the output range runs from 294 to 1,029 kW (400 to 1,400 hp) at 2,100 rpm. For light duty applications (up to 1,000 hours per year at a full-load operation share of up to 20%), including for escorts, ambulances, and police boats, MAN's engine range offers efficient 6, 8, and 12-cylinder engines providing 537 to 1,324 kW (730 to 1,800 hp).